The City of Hoi An is a UNESCO World Heritage site on Vietnam's central coast. Known for its well-preserved Ancient Town, the whole city is cut through with canals. Its small population and compact size make it easily explorable by bicycle or on foot. Being a four-hour bus ride from Hanoi, I'd only heard of Hoi An from fellow travellers once I had arrived in-country. Since it was near other places I wanted to see, I headed south.
When I visited Hoi An, the word was just getting out among the backpacking crowd. My current research shows that the city has become a tourist mecca. 
Old Town
Old Town is in an incredible state of preservation, with narrow streets that are closed to traffic. You can wander and admire the ancient houses, pagodas and temples, wells, and tombs without navigating cars, motorcycles, and scooters. The lichen-stained patina of pastel-colored walls immediately caught my attention, especially the ones splashed with vibrant red or purple bougainvillea. In the morning and evening light, fellow shutterbugs were in awe.
I stayed in Old Town, choosing a hotel with a pool for relief from the tropical heat. It was there that I learned Hoi An was the place to go for custom-made clothing. One of the main streets is lined with tailors and dress shops, the storefront windows crammed with colorful reams of material. I bumped into a guy who I met at Hạ Long Bay at a restaurant near my hotel. He was in town, waiting on his custom-made suit. 
There are plenty of authentic Vietnamese restaurants in Old Town. I fell in love with a local dumpling specialty called White Rose. I felt so impressed with another appetizer, stuffed squid, that I took a cooking class to learn how to make the delicacy. Despite how delicious the dish was, I was the only student and I mostly sat with cold beer in hand watching the barefoot chef cook on an old hot plate. I felt like I was in an episode of The Flintstones. 
Hoi An Night Market
This is not your average fruit and vegetable market. It has all the fresh produce you can imagine, along with local artisans who create and sell their wares on-site. Shopkeepers have set up the market stalls along the river, across the street from a row of restaurants and specialty shops. They've strung up colorful lamps and paper lanterns in front of the vendor booths like distant planets glowing in the twilight. 
One of my favorite pastimes while travelling is people watching. After learning that 'fresh beer' actually meant draft beer, I perched myself on a restaurant patio to sip and slurp my cold brew and White Rose dumplings. I watched the busy little people shopping and selling their wares, some wearing the traditional rice hat. I couldn't have felt any further from home and that was just fine by me. 
An Bang Beach
An Bang Beach is about a 10-minute scooter ride, or a 25-minute scenic and leisurely bicycle ride along the river from Old Town. Stepping out from the row of shady palm trees that lined the white sand beach on the South China Sea, I felt blown away by the unobstructed views for miles in either direction. I spotted an Australian woman from my hotel and asked if I could share her blanket to get off the hot sand. 
We chatted, comparing previous trips and our lives at home. She was staying in town, waiting on a custom-made bridesmaid dress for a friend's wedding. I borrowed sunscreen to stop my pale skin from burning to a crisp, one reason I don't spend much time at the beach. The pleasant company and nearly deserted beach made for a nice afternoon. 
Mỹ Sơn
Mỹ Sơn is a cluster of abandoned and partially ruined Hindu temples in central Vietnam. These gorgeous structures were constructed between the 4th and 14th century by the Kings of Champa, an Indianized kingdom of the Cham people. About 25 kilometers away from Hoi An, this awesome ruin site was nearly decimated by American bombing during the Vietnam War. The government is doing its best to restore Mỹ Sơn which was once more glorious than Angkor Wat. 
I took the bus there, feeding pills to my food-poisoned Aussie friend along the way. Many of the temples suffered severe damage from the bombing. Those that survived are truly magnificent. The guided tour is a must if you're interested in knowing the history of what you're looking at. Bring along a hat or umbrella if you arrive in the midday heat. There is no shade from the hot sun. 
Marble Mountain & Da Nang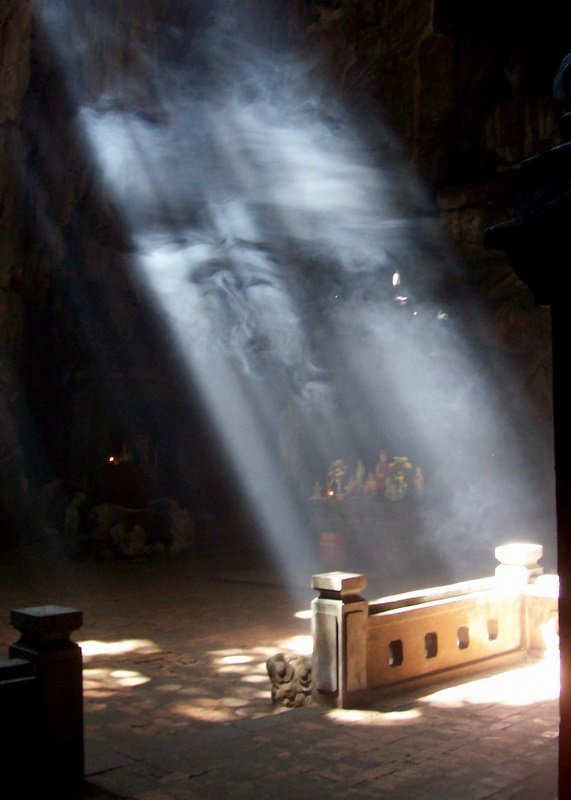 These authentic hotspots are also close by. I rented a scooter for a short trip and enjoyed the scenery along the shoreline of the South China Sea. The City of Da Nang was once the location for a huge US military base. Although I didn't visit the city, I checked out two of the concrete bunkers along the beach. Across the highway, Marble Mountain was much more impressive. It has an interesting history to boot. 
During the war, North Vietnamese soldiers took refuge and set up a military hospital inside mountain caves. The US bombed the mountain so severely, they eventually blew a hole in the top. Natural sunlight now streams through the hole, lighting up the altar and shrine below. I climbed to the top of Marble Mountain and took in amazing views of the sea and Da Nang. 
Unexpected Friends
On the way to the mountain, two young girls on a scooter befriended me and said I could park across the street at their uncle's shop. I knew I'd have to pay in some way later on. One of the smiley young ladies was waiting when I returned. She told me I qualified for a discount in the store because we were friends. In fairness, she was the one who showed me the bunkers. The store was filled with amazing marble sculptures; I took home two hand-carved candle holders. 
I'd originally planned to only spend three days in Hoi An, but after falling in love with the place I extended my stay to five. It is a great place to explore or kick back, relax, and soak up the exotic culture.
If you enjoyed my story and would like to read more about my travels in Vietnam and Southeast Asia, please check out my book, A Casual Traveler, or visit the travel section of my website.