By Diego Ambrosio
Catch up on my last article about cooking Italian cuisine in Thailand here!
I would like to thank Dreams Abroad for giving me the opportunity to introduce Italian culinary arts and some typical products of my homeland to a wider audience. Continuing with the theme, I thought it would be interesting for our readers if I answered questions about my native Calabria, Italy. If there's something else you want to know more about, feel free to comment and I'll try to expand as best I can. 
Many famously liken Italy to a boot thanks to its distinctive shape. So what part of the stivale does Calabria, Italy lie near?"
You're right, the whole of Italy does look like a thigh-high boot. However, my creative imagination has always viewed my home country as a leg, foot, and shoe. The leg represents almost all of Italy up to the Basilicata region, which borders the north of Calabria, Italy. Southernmost Sicily represents the shoe. Finally, that beautiful foot, together with the heel and ankle, is nothing else than my sublime Calabria.
What sets Calabria, Italy apart from the other regions in Italy?"
With 780km of coastline, Calabria finds itself as the only peninsular region in Italy with more territory bathed by the sea. Among the very few peninsular Italian regions, two different stretches of water nestle Calabria, the Ionian Sea to the east and the Tyrrhenian Sea to the west.
Calabria, Italy has 630,000 hectares of mountains, making it the fifth-highest Italian region. Furthermore, scarce industrial and housing developments mean Calabria's one of the best-preserved parts of Italy, making it one of the best examples of Italy's natural beauty. It is no coincidence that Calabria, Italy is rich in large national parks, such as Aspromonte National Park, which has incredible sea views from its plentiful mountain views. Another national park is the Sila National Park, within which is the second-largest plateau in Europe. Yet another gorgeous example is the Pollino National Park with 192,000 hectares, Italy's largest national park.
Among the Greeks and Romans' most prosperous regions, Calabria, Italy is also rich in important archaeological sites. For example, the Bronzi di Riace, two life-size nude bronze warriors, are considered among the most beautiful classical Greek sculptures. Following their discovery in 1972, they're now housed in the nearby Museo Archeologico Nazionale Reggio Calabria.
From the coasts to the hinterland, ancient villages perched up high alongside medieval castles of Byzantine and Norman origin sprinkle the whole region. This gives you an idea of the various rulers my native Calabria has had throughout its long and glorious history. To conclude (as you would with the icing on the cake), did you know that the name Italia derives from Italoi? This is a term the Greeks used for the Vituli (or Viteli). The Viteli lived at the extreme tip of our peninsula near today's Catanzaro, the regional capital.
Is there a specific character trait of the people who live there?"
Yes, but let's start with appearance. Many describe Southern Italians as traditional Mediterraneans. Typically olive of complexion with black hair and dark eyes, we're of stocky build.
The Calabrian or Calabrese manages to be primitive and refined, patriarchal and adventurous, taciturn and thoughtful, selfish and generous, even capable of leaps towards the unknowable and the sky; prey to ferocious passions while simultaneously able to discuss philosophical questions or to argue with subtle and refined quibbles. Sometimes we're humble and submissive, at other times proud, haughty, daring and arrogant. It's said that to understand the Calabrians, you have to look at the landscape, the vegetation, the climate, the smells, and the flavors of the territory. Our true essence, the most authentic one, is intense and passionate. 
Nostalgic and traditionalist, individualistic and anarchic, the Calabrese has a strong sense of family, honor, and righteousness. Parents pass these values on to their children and descendants.
How do these traits impact food?"
Religious traditions plus the cultural and culinary influences from Greeks and Romans have left an indelible mark on Calabria. The wide variety of food products and recipes reflects this mark.
Calabrian cuisine is an impoverished cuisine of peasant origin. We have strongly linked numerous dishes to religious celebrations. During Christmas and Epiphany, it is customary to put thirteen courses on the table; at Carnival, we eat macaroni, meatballs, and pork; Easter is celebrated with roasted lamb and cudduraci (a special cake prepared with Pasqua in mind); and so on for other holidays. We always celebrate every event in family life (weddings, baptisms, etc.) with a commemorative dinner or lunch. The 'Nduja I mentioned in my previous article acts as an excellent spicy spread for bread and features prominently in many holidays.
Calabrian cuisine is not uniform in its provinces. You can find few dishes throughout all five provinces. The likes of pasta ca muddica made with anchovies and breadcrumbs, eggplant parmigiana, and stockfish are prepared differently across the various territories.
Calabria, Italy Staples
In Calabria, preserved foods are very important. For example, salted anchovies are a staple. Or, we put desalted anchovies in oil with chili for a quick snack. Processed pork such as 'Nduja and Calabrian soppressata, cheeses, and vegetables cooked in oil and sprinkled with dried tomatoes helped locals survive in periods of famine and during long periods of siege by Saracen pirates.
Today, farmers harvest excellent agricultural products throughout Calabria's farmlands. In the mountains, producers make many kinds of cheeses while viticulture grows in the valleys. Although the industry is in decline, we still maintain olive production. Calabrian recipes use a lot of vegetables, and fortunately, the territory is especially fertile. Eggplants reign supreme, but also tomatoes, peppers, red onions, lettuce, broccoli, and legumes such as beans, chickpeas, lentils and broad beans are all Calabrian agricultural specialties.
A central role in Calabrian cuisine is occupied by bread, with attention to the preparation and ingredients. Equally important is traditional homemade pasta while chilies, which can vary in spiciness, frequent sauces and main courses.
What are the most important products of the region?"
Since there are so many, I will try to list only those that I think are the most important:
Oranges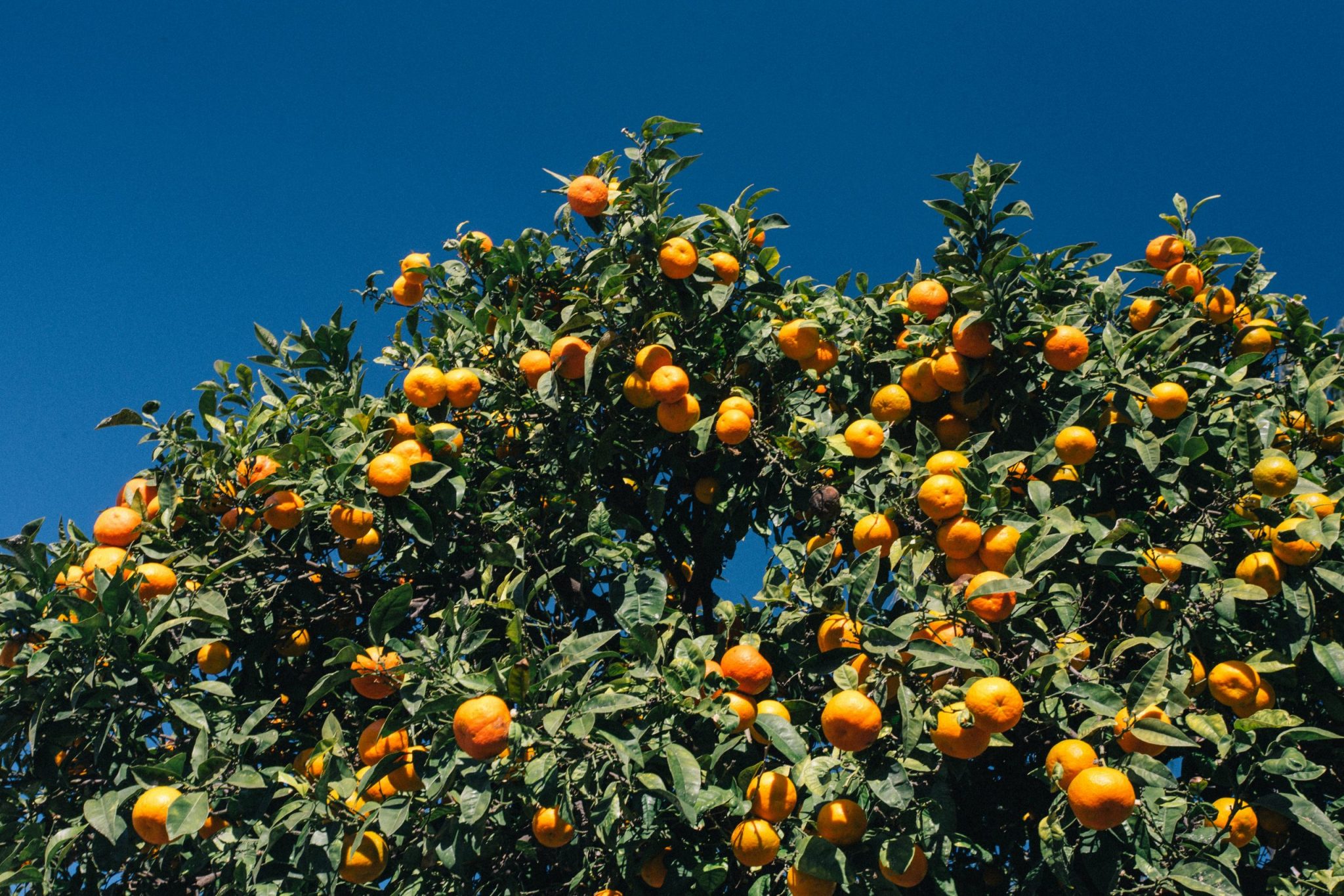 In the period before the October Revolution, the court of the Russian tsars were fond of Belladonna oranges, or Ovals of St. Joseph. For this reason, they called them "oranges of the tsar." These beautiful blondes grow in Reggio Calabria, Italy between the Gallico and Catona rivers' valleys. In particular, they're especially plentiful in the hamlet of Villa San Giuseppe. Italians appreciate them for their very sweet taste and lack of seeds.
Wild Asparagus
The asparagus family has over 300 varieties: one of these is the wild asparagus of Calabria, or Asparagus acutifolius, which flourishes throughout the region. It's particularly noticeable in Filadelfia, in the Cosenza province. It is here that the brackish sea meets the cold air. The hard earth of the mountains gives the local asparagus a bitter taste and a herbaceous scent incomparable with other varieties.
Bergamot from Reggio Calabria
The first bergamot was planted near Reggio Calabria around 1750: from that moment on, Citrus bergamia almost became a symbol of the province. This rare fruit produces an essential oil used in the kitchen and in the cosmetics sector to make perfumes.
Many famous perfumes in the world use this bergamot. Eighty percent of the world's bergamot comes from Calabria!
Licorice of Calabria 
Licorice grows spontaneously throughout the region and has allowed the development of a thriving local economy over the past centuries. The history of its cultivation is linked to that of the Calabrian estates and feudal families.
Calabrian licorice is a perennial herbaceous plant. Italians use it in its original form or transformed into a juice. The juice acts as a digestive and detoxifying aid. The confectionery industry primarily uses its essence to prepare cakes, candies, and ice cream. In Rossano Calabro, Calabria is the only Italian museum dedicated to licorice, where tools are exhibited and history is reconstructed. This detailed recounting of the history of licorice is thanks above all to the Amarelli family's manuscripts, who have produced liquirizia for almost four centuries.
Potatoes from Sila
There are different varieties of the Sila potato: Agria, Désirée, Ditta, Majestic, Marabel, and Nicola. The common feature of all the potatoes is that they have a higher percentage of starch than average (meaning they require longer cooking times). The extra starch makes them particularly tasty and nutritious. The added flavor is due to the production area on the Silan plateau, located over 1,000 meters above sea level.
Calabrian Chili
The Calabrese chili is considered by all of Italy the king of chilies: we're talking spagnolicchio, diavolicchio, pipu, and pipi bruscenti. Thanks to its spicy and simultaneously aromatic flavor, it has become a fundamental ingredient for local cuisine, used both fresh and dry. Its organoleptic characteristics are due to the sandy soils it grows in as well as the climatic conditions.
Calabrese chilies grow on sunny soils, where temperatures never drop below five degrees Centigrade. Water the chilies abundantly to have an ideal product at the time of harvest, which occurs between August and September. Used to both preserve food and add an extra kick, Calabrese chilies are one of the area's characteristic products. The first written traces of chili production in Calabria dates back to 1635. Nowadays, there are various varieties such as the Soverato or Vulcan; Poinsettia; Hot Super Shepherd or Spicy Dog's Nose; and Cherry Bomb or Cherry.
Belmonte Calabro Tomato
Coming from Belmonte Calabro, a town in the Cosenza province, an Italian emigrant who had returned from America imported the Belmonte Calabro tomato at the end of the 19th century. It is a large tomato that cannot grow anywhere else in Southern Italy. 
There are actually two varieties: the first is Cuore di bue, which is quite widespread throughout the region. It weighs between 400 and 800 grams and has an elongated shape that resembles a heart. The second type is called Giant and weighs between 700 grams and a kilo. Giant tomatoes can even reach two kilos while the vine can extend to three meters in height. It has an intense pink color but never turns red. The pulp, which has no acidity and has few seeds, is practically indistinguishable from the skin. Only use this tomato in salads to avoid losing its delicate flavor during the cooking process.
Soppressata di Calabria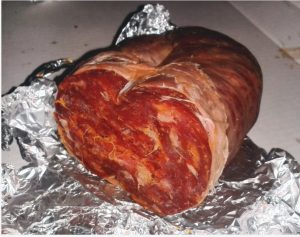 Whether or not black pig makes up the salami, it serves as a fundamental ingredient in Calabrian gastronomy, protected by the designation of origin. Although there is no definite recorded date, it is believed that this soppressata was first made in ancient Lucania and exported to neighboring regions by the Greeks more than three centuries ago.
The finest pork cuts are chosen to prepare the soppressata: shoulder and ham for the meat, the front part of the loin for the fat. The cuts are coarsely chopped and black pepper, fennel, salt, and chilli, are added. Everything is stuffed into the pig's large intestine. Cover the mixture with linen sheets and press for about a week to assume a cylindrical shape flattened at the sides.
At this point, the drying phase takes place, which lasts about two weeks. It is customary to light a nearby brazier with lemon peel and oranges to lightly smoke the salami during those two weeks. The pressing is repeated and the soppressate are left for five to six months. Once matured, the soppressata has a spicy and intense flavor, with a bright red color. The Dop always covers other varieties on the market: the white soppressata, without pepper and chili, and the sweet soppressata, with either sugary red pepper or sweet peppers.
How highly regarded are the wines of Calabria, Italy?"
The history of wine in Calabria has its roots in an ancient past during Magna Graecia, when the Greek colonists moved along the peninsula's coasts and brought with them the vine. The grapevine was a gift of Dionysus and his noble fruit, gaglioppo, is one of the most representative vines of Calabrian viticulture. Gaglioppo dates back to the eighth century B.C.E. and was imported by the Greeks along the Ionian coasts.
Thanks, above all, to the potential of an extremely varied territory in terms of geomorphology and microclimate, Calabria gave rise to rare, precious, and unique wines. Between the snow-capped peaks of the Pollino Massif in the Sila plateau, the Aspromonte mountains, and the long Ionian and Tyrrhenian coasts surrounding the region, there are many wine varietals that find themselves at home in the region.
Characterized by a clear prevalence of black-berried grapes, this panorama makes up to 75% of the entire production. Magliocco and Gaglioppo are undoubtedly the most representative black-grape varieties of today's Calabrian viticulture.
You'll find the best vineyards in the Cirò area, one of the most well-known wine-producing regions. For centuries, viticulture has thrived here. Its grapes ripen during the first ten days of October. This vine has few anthocyanins. This translates into a mild color distinguished by a clean palate and fresh taste.
On a scale of one to ten, how hot is a Calabrian chili pepper?"
Certainly, the Calabrian chili will never be able to match the SU (Scoville Unit, a measurement of how spicy a pepper is) achieved by the Cayenne pepper, the orange Habanero, or the Red Savina Habanero, which has an SU of 400,000 and is considered the hottest chili pepper in the world. However, considering that the Italian chili pepper has about 5,000 SU, while the Calabrian peppers are around 15,000 SU, we can safely say that the Calabrian pepper is the most piquant one harvested on Italian soil. So, on a scale of one to ten, we could easily ascribe it a value of seven.
What is the region's signature dish?"
Because five provinces make up the region, there is no regional dish. Each of these provinces produces different traditional dishes. However, there is an appetizer which, for some reason, blends all of the provinces together in a harmonious and delicious explosion of flavors. It is the famous Calabrese Antipasto.
How do you prepare it?"
As explained above, the Calabrian people have dedicated themselves since ancient times to the preparation of preserves. Poverty led people to be provident in the sense that everyone tried to keep their pantries fully stocked by conserving seasonal agricultural products through traditional procedures handed down by peasant wisdom. They dried vegetables in the sun and then put in oil or vinegar. Meanwhile, they preserved pork in lard. How ingenious in a time when there were no refrigerators and freezers!
Today, our appetizers mostly consist of eggplant or mushrooms in olive oil, green and black olives, different types of cheese, capocollo, soppressata, and other various cured meats. In short, more than an appetizer, Calabrese Antipasto is a rich and appetizing single dish, capable of satisfying the most demanding appetites.
Please share your recipe"
INGREDIENTS:
Capocollo

or any cured raw ham

Guanciale

(pig cheek)

Soppressata

( or substitute salami)

Goat cheese or

caciotta

F

resh

pecorino

cheese with hot pepper

Sheep

ricotta

with grape mustard

Bruschetta

with tomatoes, eggplant in oil,

sardella

and

'nduja

E

ggplant rolls with onion jam

Black olives

Mushrooms in olive oil
DIRECTIONS:
You can prepare this simple recipe according to different variations. The main rule is to have at least a couple of cheeses, a duo of cold cuts, and some canned products in oil or vinegar.
If you can find the products listed above, all you have to do is thinly slice both the cheeses and the cold cuts and arrange them radially on a large serving dish.
In the center, place three or four different types of oil-based products. I highly recommend green olives, a few slices of roasted eggplants, and some mushrooms in oil (porcini mushrooms would be the best choice).
To finish this dish you will also need to prepare three or four bruschettas. You can do this using slices of wheat bread placed in the oven. Garnish the bruschetta with fresh cherry tomatoes cut into cubes, a sprinkling of oregano, and a drizzle of extra virgin olive oil.
Buon Appetito!
Before I leave you… I would like to sign off with a special video about my hometown, Catanzaro. The video was recently made through the artistic fusion and genius of two great professionals in the film industry, who are also my dear friends, Vittorio Sala and Andrea Mauro. Their creative agency, A|BOUT, produces professional videos for commercial and cultural projects.
I hope it will be to your liking 🙂 
You can also follow them on Instagram.
A warm farewell to all, and see you again soon.