I left off my last piece for Dreams Abroad in a place of uncertainty, unsure of a future while trying to reflect on my 19 months here in Thailand. While I've had such a wonderful experience since I began teaching in Phuket, it's hard to reflect on the positives while being so concerned with such an insecure future. I know that many teachers and students around the world have been impacted by the COVID-19 pandemic, which is something I have been thinking about a lot in the past few weeks.
Additionally, in these past few weeks, I have begun to doubt my abilities, as I am sure many educators have. This current situation is somewhat unprecedented and many of us have never faced the reality we have encountered this year. I have questioned my own capabilities and attributes as a teacher, re-written my syllabus to accommodate online distance learning, and spent sleepless nights thinking about how we can help our students during this time. Although these are trying times, we can get through them together. 
School Plans During the COVID-19 Pandemic
For a while, we were unsure of exactly which path we would take for this new school year. In western countries, the academic year begins in August or September. Meanwhile, in the Thai school system, our academic year runs from mid-May to the end of next March. We were fortunate that we were able to complete our school year without much interference from the COVID-19 pandemic.
However, we have had to begin our new school year through online teaching. Our program investigated many avenues for this until we made our decision. Ultimately, we used Google Classroom and Google Meets as our primary platforms for online demonstration. Before student return in July, we will have completed three weeks of teaching fully online.
While I have taught English via digital/online classes one-on-one before, I have never taught a full class of twenty-five students or taught visual arts anywhere besides in a real-life classroom. The thought alone was daunting to me at first. I like to have a lot of personal interaction with my students in the classroom. I wanted to be there with them, physically making and creating alongside my classes, demonstrating and helping students.
Teaching from computer (or mobile) screens as my main platform has made me feel so restricted. I felt deflated after spending  hours creating an entirely new visual arts curriculum and syllabus for grades 7 to 12. Most of the projects I had previously created could no longer be used. There was no way of ensuring all students could access materials I planned on using in previous projects. Additionally, I knew that my students would need assistance and hands-on guidance to learn certain techniques and processes. Before I was about to pull my hair out, I stopped and thought to myself, "don't despair".
Fighting Anxiety While Teaching During the COVID-19 Pandemic
As I have spoken about in previous pieces, I have struggled with anxiety disorders since I was young. One of the biggest challenges in my young adult life has been to manage my anxiety. Trying to restrict its control and presence in my life is my main goal. While I have made a lot of progress with this, disruption to everyday life and routine really test me. Once I was able to get my head on straight and close the door to the illogically worried corner of my brain, I was able to think clearly and brainstorm plans for a series of possible outcomes. Upon opening a dialogue with my colleagues, I quickly discovered that I was not alone in my feelings. 
Many knew that the situation in Phuket could change at any minute, as with many things in Thailand (regardless of COVID-19 Pandemic). Our school did not come up with a plan of action for a while. The faculty did not feel 100% sure of just how long isolation and lockdown restrictions would remain in Phuket. At first, we were notified that we would be conducting online classes from our own homes. Sounds great, right?
I prepared a workstation in my house, completely ready to begin online teaching from home. However, one Saturday afternoon on the 30th of March, we received notification that we would be required to return to school on Monday, the 1st of June. Our online classes would commence on June 8th. This lack of notice and last-minute changes is something you must be able to work within Thailand, regardless of your personal feelings. 
Thailand's Go With the Flow Lifestyle
I have met people who grew up in western countries who later lived in Thailand who just could not adjust to this aspect of life here. The lack of punctuality and timely information can really wear thin on some people. If you're thinking of moving to Thailand to work at all, this is something you genuinely need to reflect on.
Can you accept that situations may change hours before an event? Or that you may receive a message at 9:00pm the night before with information that could change your next-day plans? Then waking up the next morning to a message at 6:00 am telling you to disregard the prior announcement? That happens more than you may like to believe. I have turned up to class before only to find an empty classroom because the students were at an event. I had not been notified of that change beforehand. 
These are common occurrences in Thailand, especially in Thai schools. For me, it's a part of the basic everyday lifestyle here and I don't get too bothered by it personally. However, I can understand that it could be a real annoyance and frustration to people who need consistency and stability in everyday plans and routines. I believe that flexibility and adaptability are crucially important personal traits to have when living here, especially if you don't want to be a human stress ball (haha!).
Battling Disconnection Online
Over these past weeks, I have struggled to feel like I am doing my job well while in class together. I have felt the disconnection between my students and I as well as the limitation of a computer screen. These changes in the classroom dynamic have felt very extreme in immense ways. I am used to having highly active and engaging classes, where students are forced to participate either vocally or physically. Many of my usual activities and projects cannot be done via online learning, as there are restrictions with the platform we are using as well as technological restrictions relating to the abilities of our own devices and the resources students may or may not have at home. 
Nonetheless, I am grateful that we are able to use this online teaching time as a chance to prepare students. When our semester starts officially, they'll be prepared with the knowledge needed for their return. Right now, we are not assessing students or giving them tasks which would be given in our normal academic calendar. Instead, we are using this time as a chance to prepare for July when we return to normal classroom teaching… well, as normal as it can be in the given situation.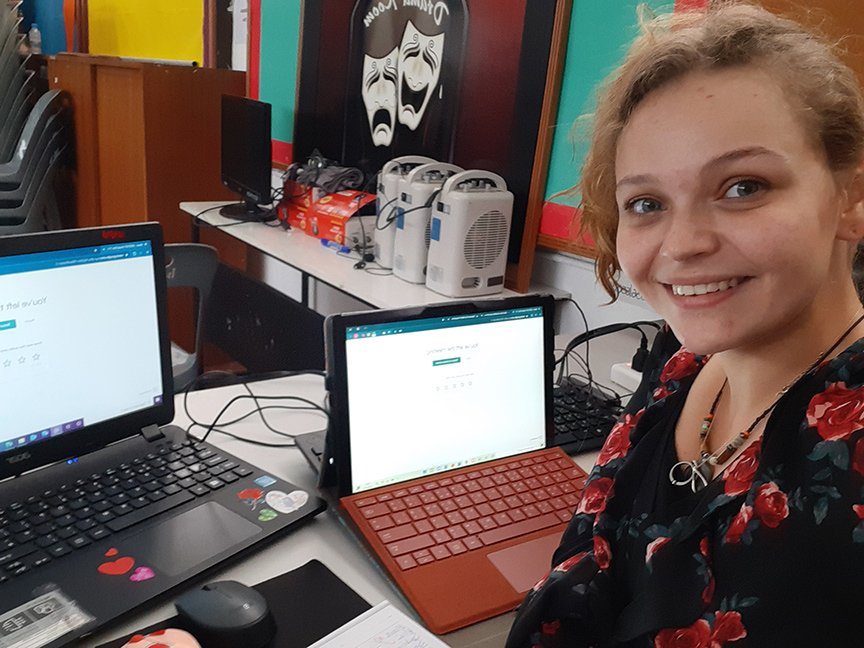 Looking Forward
The Thai government and Ministry of Education have given guidelines for schools to follow in order for them to even have the possibility of allowing students to return to campus. Each school/program must be able to prove that they can accommodate and follow the strict social distancing and hygiene precautions set by the Department of Health and the MOE before students are allowed back into school. As of right now, we will be able to have students return safely starting July 1st. Despite this, the environment in school will be quite different. I am looking forward to documenting our experience when students do return to school, so I can share that with you all in my next Dreams Abroad piece. 
I know that the possibility of reopening is not in the near future for teachers in many other countries right now, as situations are different all across the globe. Nevertheless, I think all teachers share similar feelings regarding this situation right now. We can all help each other by sharing our experiences and concerns. Initiating a dialogue amongst ourselves will give each of us support. We could create a platform where we can share tips and tricks with each other. One of the most useful things I have found is joining social media groups of teachers around the world using the same digital learning platform as I am. There is a lot we can learn from each other. Communication and connection are more important now than they ever have been. 
Reflecting On My Thai Teaching Experience
So while I have been maneuvering through a messy couple of months, I have also had more time to reflect on my experience living in teaching in Thailand so far. I have learnt many things; some I spoke about in my last interview. One of the things that has become most evident to me is that I am more resilient than ever before. Moving abroad, starting a new career, facing personal challenges as well as general parts of life that someone in their mid-twenties experiences; these all have been testing my character over the past two years.
I've had brilliant experiences here in Thailand. One of the most valuable things I have learnt is having the mindful ability to cast away distractions. It allows me to focus my energy on the main goal. I'm sure this is something that people can learn whenever they may be in the world, but I definitely think living surrounded by Thai culture and in the environment of Phuket has really helped me develop and stick to living by that mindset; it is a mindset which has helped keep me motivated during this trying time. 
We are currently preparing ourselves, students, and the school campus for the return of in-classroom teaching. We will have to be very strict with our safety regulations. Two days are being dedicated to cleaning and preparing the classrooms. We need to ensure our students are safe on campus. This includes spacing desks and placing markers on the floors, installing plastic screens on desks, as well as making sure that each classroom has enough sanitizer and disinfectant. One thing that students will be doing upon their return is taking part in a collaborative project. They'll make sanitizers and disinfectants from scratch in their Biology and General Science classes. My art students will be tasked with creating labels for the bottles of disinfectant and sanitizer, as well as producing informative posters to be displayed around the school.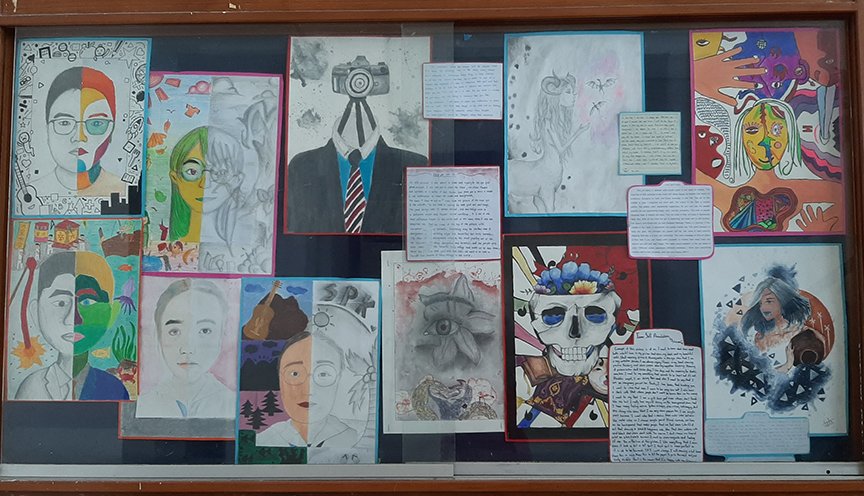 Coming Together as a Community During the COVID-19 Pandemic
I hope that we can come together and create some wall murals to promote the importance of a community mindset as well as equal care and respect for one another during the COVID-19 Pandemic. I hope to check in again soon with an update sharing the experience of our school when students do return to campus. In the meantime, I'm brainstorming plenty of other non-teaching related pieces I would love to share with you all in the future! 
by Beth Young