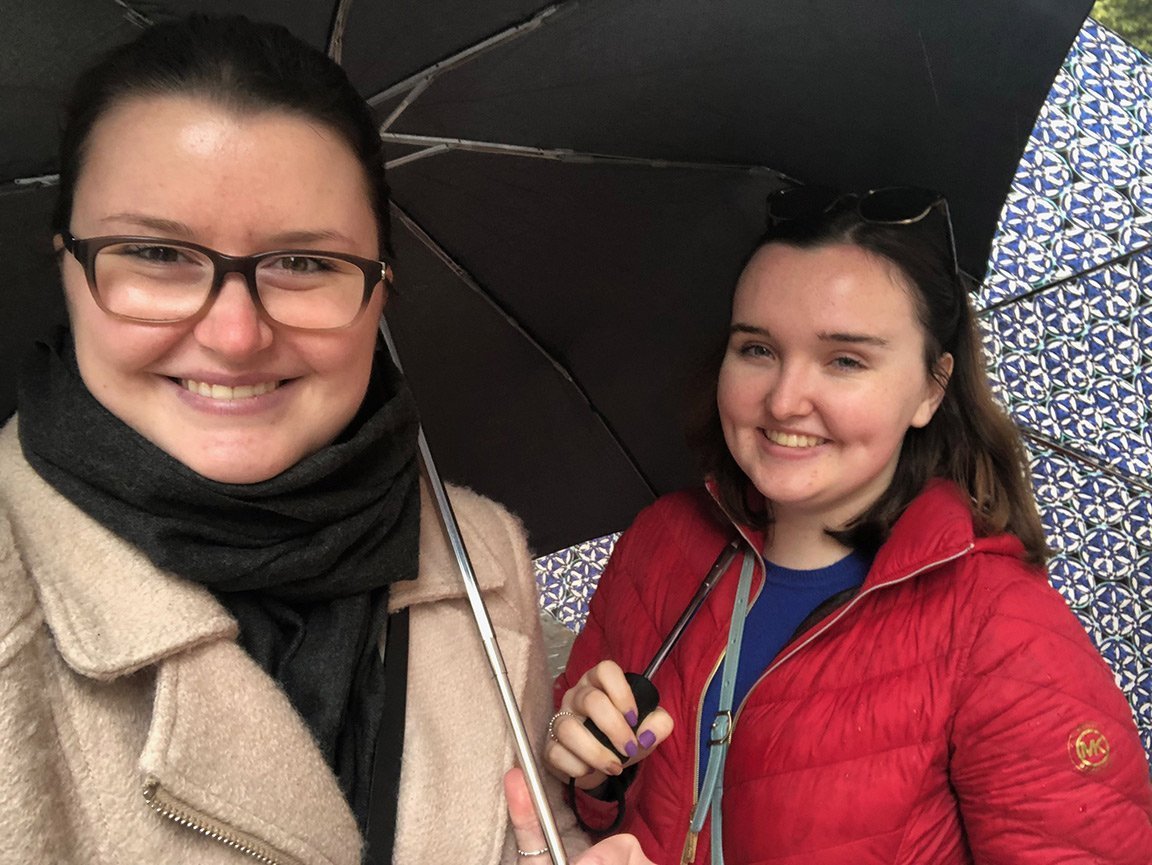 I met Carmen Graves in September of 2018 when we both started intensive academic year programs to learn Spanish in Spain. Carmen was using the experience as a gap year between finishing high school and starting university in her home country of Canada. She quickly became a good friend and we stayed in touch. We visited one another often even after she left Madrid (where I continued my entire program). She did subsequent studies in Málaga and Barcelona, spending three months in each of the three cities she lived in. I spoke with her about her experience taking a gap year: what encouraged her to do so; what did she get out of it; and what advice would she give to others considering something similar?
Emma Schultz: What prompted you to take a gap year? What is the value of a gap year?
Carmen Graves: "Taking a gap year was always something I had talked about with my mom since I was nine years old. Her philosophy was that experiencing new cultures and learning to be independent in foreign surroundings would be incredibly beneficial for my personal growth. As well, when my parents were in school, our province had another full additional year of high school than currently. They thought another year to mature would provide me with a better, more productive university experience.
As the time to take my gap year grew closer, it began to make more sense for me personally. I participated in a very competitive high school program that required a huge commitment in terms of time and energy. I had also chosen to continue into a challenging university program. Because of this, I wanted to take a year as a break from the academic environment to challenge myself in different ways and figure out my identity separate from my academics."
Why did you choose to go to Spain?
"The purpose of my gap year was primarily to learn a new language. Spanish seemed like the best choice since it is such a widespread language. It's quite similar to French, which I already spoke. Spain, in particular, appeared to be the ideal choice to take a break from a high-stress academic environment since it is well-known for its laid-back culture."
What was it like living in three different cities during your time abroad?
"It was amazing! But it also came with its fair share of challenges. I feel like I got to learn more about the country by experiencing its different regions. It also allowed me to have a different experience in each of the cities. Not only was my environment different, but also the people who were surrounding me. However, saying goodbyes was one of the hardest parts of the year."
What will you be doing next?
"I am very excited about starting my university experience this fall at Dalhousie. Somehow I managed to squeeze in a Spanish course to help maintain what I learned this year. I also hope to learn another language down the road."
What value did your time in Spain bring to your life? How will you take your next steps?
"I can't even put into words all the ways this year has proven valuable. I'm sure over time I will discover other benefits I haven't realized yet. First and foremost it has made me so much more open and excited to go outside my comfort zone and chase down new experiences. It also exposed me to so many wonderful people from around the world who helped me grow and taught me so much about their cultures. I truly feel as if this year has given me a big push on my path to be a more global citizen.
Of course, there is also the benefit of learning a new language that will hopefully help me along in my career path. Being in a foreign country and learning a new language also taught me to accept making mistakes and to learn from them instead of letting them get me down. I am incredibly grateful to learn that valuable life lesson in my low-stress gap year environment instead of when they might have affected me academically. I cannot wait to apply these new lessons to my studies and life going forward."
What advice would you give someone thinking about doing a gap year or about to start one?
Carmen's Rules for a Marvelous Gap Year Experience:
"It's okay to be nervous and afraid of going into it. However, don't let that fear stop you from having a great experience once you are there.
Be open to new things and new people.
Don't surround yourself with only the familiar (although a little is okay) or else you won't learn anything new.
Have a measurable goal for the end of your experience so you can be proud of your accomplishments.
Have an incredible time because you're in for a wild ride."
Carmen's year in Spain helped her develop a valuable life skill – speaking Spanish. But it also helped her see the world, learn new ways of thinking and doing things, meet new people, and learn more about herself. There's nothing more I could want for a friend or anyone else thinking about spending time abroad – and it seems like a gap year is a great way to do that.
by Emma Schultz