An English Blur
If you haven't read my second installment take a quick peek at Getting Lost in London to catch up!
The next morning, I woke up early to meet the group that was going to Oxford. Dounia hadn't wanted to visit "some stuffy, old college," and rolled her eyes about visiting Stonehenge, so I was going without her. I went to the hotel's continental breakfast and was met with all the workings of a traditional English breakfast. I tried eggs benedict for the first time, as well as English breakfast beans (unusual, but I enjoyed it. Every chance I got, I would heap a mound of breakfast beans onto my plate). I went down to the lobby to wait, where I finally met Yennifer. Yennifer was the oldest member of the group and had grown up in Colombia. Dounia and I would become great friends with her.
Change of Plans
Nikos informed us that there was a last-minute change and we wouldn't be visiting Stonehenge, much to my disappointment. Nonetheless, we were off. We met up with another tour group, and we all piled into a bus. Still unfamiliar with who my group was, I sat alone and looked out the window. When we got to Oxford, we took a quick walking tour, visiting all the important locations, and then we were released to explore on our own.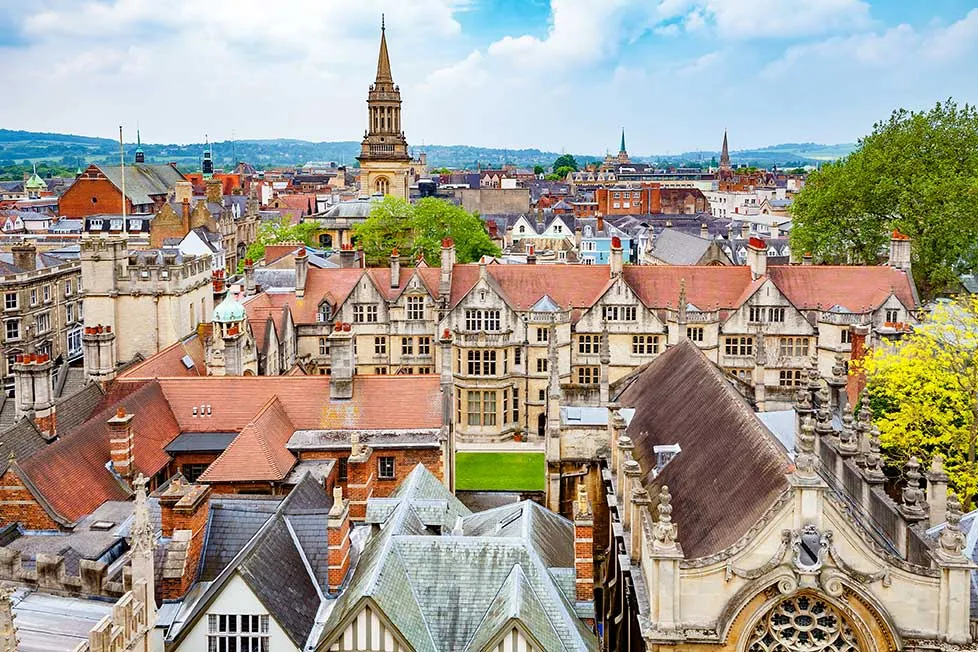 As soon as we were released, I bought a hoodie. It was freezing! It was the middle of summer, and it was like 60°F out! In Florida, it was probably 95°F. I didn't think I'd be wearing a hoodie in the middle of May, that was for sure.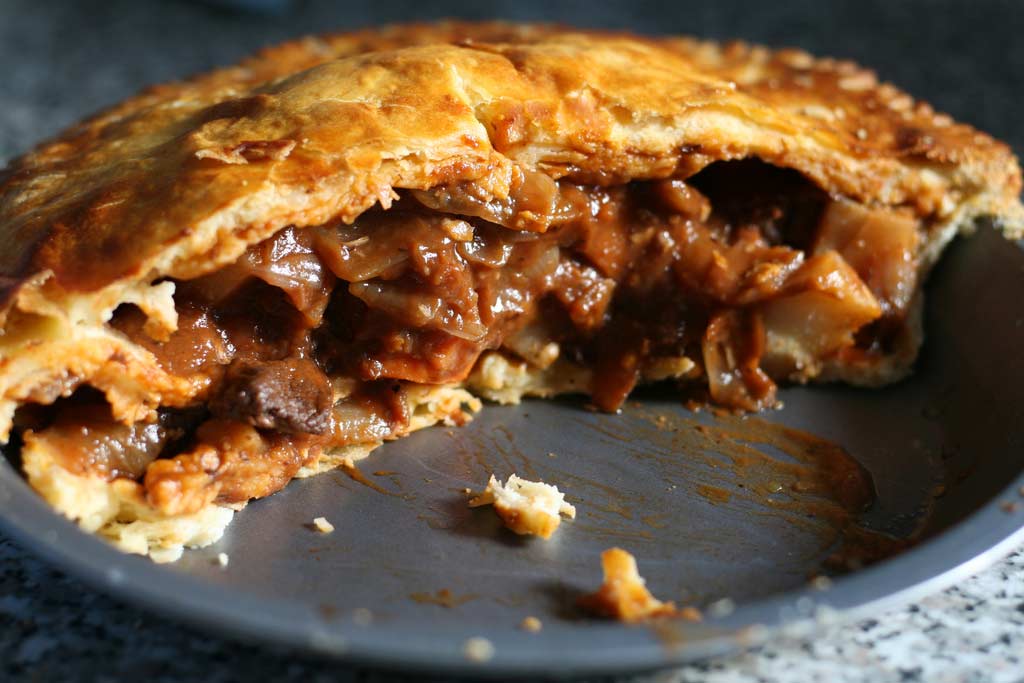 For lunch, I had a venison meat pie (delicious) at the market. It was completely surreal ordering it. There was definitely a delay while I took time to process the cashier's accent – I think I had a venison pie, but who really knows what I agreed to in that quick exchange.
I took some time to sit in one of the important halls of the college, where I wrote a postcard to my grandmother, and then tried to visit the famous Oxford library. Unfortunately, the library is closed to visitors, so I made do with buying a copy of The Hobbit from the library's gift shop. I popped into one of the oldest pubs for a quick peek, and then after ran into Yennifer and another girl from our group, Emily. They were going to visit the museum, so I thought I'd tag along.
Onto the Museum and Oxford Courtyard
The museum was incredible. There were old dinosaur bones that hung from the ceiling, and I had never been so transfixed as I had been, standing there, amidst such an incredible display of natural history. Yennifer, Emily, and I rushed through as much of the first floor as we could, as we had to meet the group once more. After meeting up with them (and after listening to an excited 19-year-old about popping into that old pub and buying a beer – "I didn't even get carded!"), we were led to the famous Oxford courtyard that appeared in a number of Harry Potter films.
When we got back, Dounia and I went to have dinner somewhere Nikos had suggested, which was down a slightly scary street. We talked about turning around several times, but we eventually found it. I ordered my second drink ever, an apple martini, which Dounia recommended. What a difference! It was delicious! I could definitely see how those could be dangerous!
More Of London
The next day, we piled onto another bus and toured around London. We saw the Globe Theatre, Big Ben, London Bridge, and even got to watch the Changing of the Guards ceremony at the palace. Afterward, we again stuck close with Nikos and followed him around, along with a mid-sized portion of the group, into Chinatown. We saw all the usual quirks of Chinatown, along with the really cool entranceway.
After that, the group struck off from Nikos, and we visited several art museums. Dounia and I had dinner again, together, this time in a more popular part of town. A bunch of our group went bar hopping, but Dounia and I skipped it, as we had to wake up early again the next morning, and neither of us wanted to spend our souvenir money on booze.
I feel like I missed a lot in London, but this can be attributed to it being the first city, and we were still getting our feel for things. It was so big that it was overwhelming to pick what you wanted to visit. I feel like a lot of time was wasted just wandering around and trying to figure out how to navigate.
I remember feeling really frustrated at a lot of the people we were with, because nobody could make up their minds on what they wanted to see or how to get there, and I was trying to go with the flow. Later on, I decided that I would be the one navigating – I wasn't going to waste my time trying to 'collaborate' (i.e. argue) on directions when I knew I was right. I probably rubbed more than a few people wrong, but in the end I was one of the go-to's for directions, which ended a lot of frustrations on my end.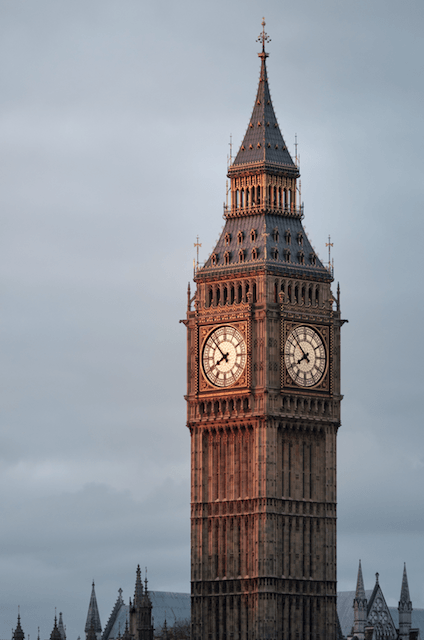 What I Learned
Ultimately, I wish I had gotten the chance to go back to London with my group. The anxieties of being in a new place with almost no one that I knew definitely got to me. This would eventually go away, but for the first few cities, I was really stressed out. This wasn't only just the fact that I was in a new country either, but also because I was in such a large, historic city. I hadn't come in with any plan at all on what I wanted to do or see and had no idea about what was around London that I could look at. I had brought a sightseeing book for Europe, but a lot of the sites in that were too far away.
My favorite place that I visited while in England was Oxford. I think I loved it not only because of the college but also because it was such a charming town. You could feel it waking up as the sun reached further and further overhead, there were people strolling up and down the street, and some locals tending to their garden flowers. The market was busy and alive. I saw an entire pig head! There were students and tourists rowing in the river down the way, and students walking around in their exam uniforms. I could have spent a few days in Oxford alone.
Final Thought About Where I Was
Visiting Oxford gave me a chance to take a deep breath and remind myself that everything was fine. Being alone in a weird place was nothing to get worked up over. I needed to be more open to new experiences and actually go with the flow. Not just say that I was! Taking the time to write the postcard gave me a moment to appreciate where I was. It was incredible that I was sitting in a hall that millions of students had traversed. I was standing smack dab in the middle of a room with wall to wall windows – a hall that was part of a university dedicated to educating students for centuries. It was big, beautiful, and breathtakingly rich.
When I emerged from that hall, I found a sense of calm. When Yennifer and Emily invited me to the museum, I was touched that they thought to include me. They reminded me to be friendly. Everyone who came onto this trip was just as alone as I was. Visiting the museum with them was one of the best parts of the first half of my month abroad.
In my next post, I'll talk about arriving in Paris and our Parisian dinner! If you'd like, check out the video I made from clips I took while walking around!
Visited Oxford today and got a little carried away with the video clips

Posted by Cassidy Kearney on Monday, May 16, 2016