by Tyler Black
I'd like to dedicate part five of my trip to the incredibly rich and diverse food in Mexico. Check out parts one, two, three, and four!
Since I had arrived in Mexico City four days ago, I had not stopped taking advantage of all the amazing things in and around the city. Luckily, my fifth day was a lot more relaxing; it allowed me to catch my breath and experience the city at my own pace. I slept in for the first time all trip and took my time getting ready gingerly. I decided to utilize my free day by buying souvenirs for myself and my family. 
The day prior, my guide, Tito, recommended taking a stroll through La Ciudadela, a small market dedicated to handcrafted items. Thankfully, it wasn't too far from my hostel, Casa Pepe. I took to the streets and headed off for the market. The midday rush was in full effect. The city was absolutely buzzing with hoards of people going about their lives. The vocal street vendors and the rambunctious car horns were deafening. But I loved all of it. 
La Ciudadela
When I arrived at La Ciudadela, I was met with dozens of stalls selling hundreds of unique items. An eagle whistle I heard vendors using during my excursion to Teotihuacan immediately caught my eye. I knew I had to have it. Moving along, I also bought myself a small sombrero and a small Dia de Los Muertos doll for my younger cousin. I definitely could have splurged some more on all the amazing handcrafted trinkets but I unfortunately had to be mindful of my suitcase space.
I spent the rest of the day relaxing inside Casa Pepe, chatting with other travelers. The hostel was hosting a happy hour that night. We all agreed to meet up later at the rooftop bar to enjoy some drinks and get to know each a little better. Because it was our first time at the happy hour, we all were allowed a few free drinks! It was so amazing to have a few beers and take in the view of the city at night. The bar even had some karaoke going on so we got to watch people from every corner of the world embarrass themselves in front of everyone. There's nothing more entertaining than that!
Day Six: Exploring Food in Mexico
I got to sleep in for the second morning in a row. However this time, it was because I was trying to recover from the previous night's festivities. Free drinks will sneak up on you. Luckily I had plenty of time to rest before the day's activity: a food tour! Remember in Part Two when I got sunburn on my face? Yeah, well, my face decided to peel today. Working as a travel agent has its perks, though, as I received face cream from United Airlines at work. Unfortunately, the cream was no match for my dead skin.
My crusty face and I headed to the Polanco district late in the afternoon to meet Mexican Food Tour's guide, Luis, at a restaurant called Guzina Oaxaca. They offer many tours around the numerous districts in Mexico City. Reviewers rated this tour the highest, though, and understandably so. The district was very modern, vibrant, and was home to a wide variety of eateries. Our group was very small; just three of us in total. I was accompanied by an older couple from California. I prayed my face didn't scare them.
Guzina Oaxaca
Our time at Guzina Oaxaca was spent introducing ourselves and listening to Luis give a simple rundown of the tour. While he explained everything, waitstaff served us different kinds of Mexican mole, a traditional marinade, and an assortment of fruit drinks. To finish things off, we also tried a corn tortilla topped with a bean spread called Tlayuda. I will apologize ahead of time: I was too busy stuffing my face to listen to everything Luis had to say about the assortment of food we tried on the tour. I highly recommend taking the tour for a detailed explanation of the fine Mexican cuisine we received.
Our next stop was a small restaurant specializing in tamales. I had never had a tamale before and it was certainly interesting to try. Cooked corn husks sat on our plates, which we peeled open to reveal ground corn dough mixed with chicken, cheese, and a variety of spices. It was absolutely fantastic. Our guide made sure we tried atole, a hot Mexican drink made of corn which comes in a variety of fruity flavors. So far, this tour was killing it and my stomach was ready for what was to come.
Tacos and Ice Cream 
Continuing on, we walked up on a small, hole-in-the-wall taqueria. Luis raved about the cochinita pibil tacos, or pork tacos. Since I'm not one to ever turn down a recommendation, I scarfed one down and, boy, did it hit the spot. Apparently there's a whole process that goes into making cochinita pibil. However, like I said earlier, my mind was enveloped in this spicy pork taco and not on Luis's commentary. I'm not good at multitasking okay?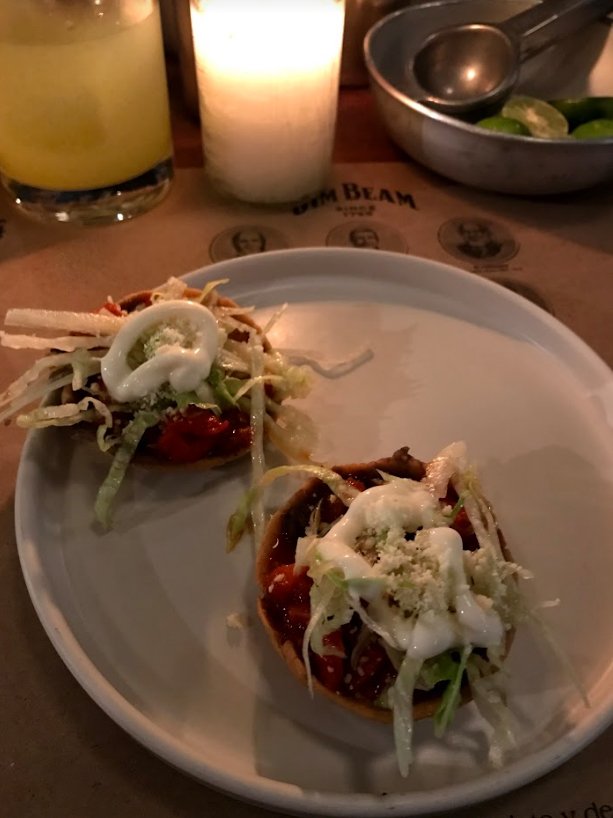 Taking a break from salty, we then switched to sweet and went to an ice cream parlor called Neveria Roxy. I ended up getting helado de fresa, or strawberry ice cream. If I can't teach you about the intricacies of Mexican food, at least I can teach yinz some Spanish. Did I say yinz? I've been living in Pittsburgh for too long.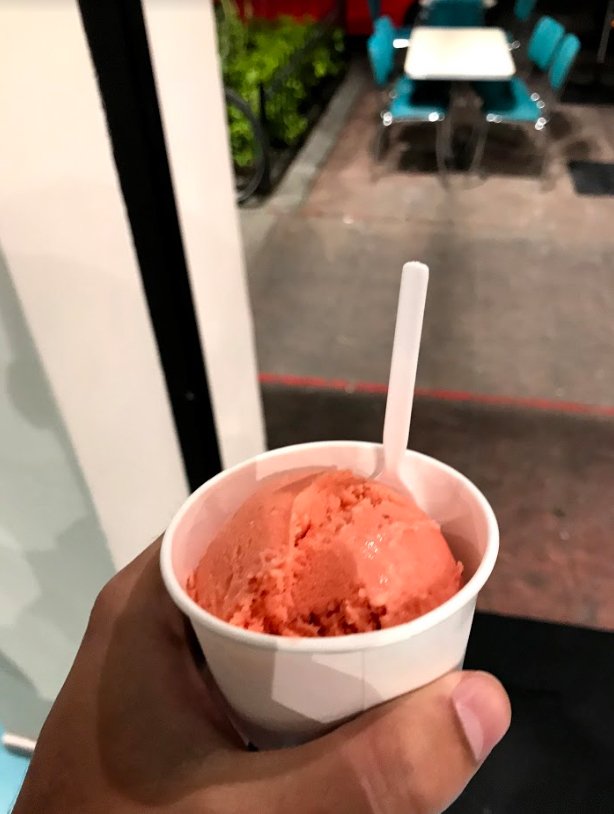 Food Tour Through Polanco
Anyway, we took the ice cream to-go so Luis could show us the beauty that Polanco had to offer. We passed many Spanish mansions, turned high-class restaurants, and roamed through some beautiful parks. One park we strolled through was called Parque Lincoln, and to my surprise actually had a statue of Abraham Lincoln! If you had told me beforehand that there was a statue of one of our most famous presidents in Mexico City, I would have laughed at you. Nonetheless, it was a very cool nod!
With only two restaurants left, I waddled along with the group hoping the skin on my face was still attached. Spoiler alert, it wasn't. But whatever, there was nothing I could do about it on this tour of food in Mexico. Our next dish was at a seafood restaurant. We chowed down on two fish tacos filled with marlin, cheese, and yellow chili. These weren't your traditional tacos, though. They looked like those frozen pizza bagels you get at the grocery store except better tasting and without the self-hate from eating too many. To wash it all down, we received a delicious glass of guava juice, which I never knew I liked.
Last Taco of the Night
The last restaurant was a typical Mexican cantina. The crowd was very young and there were TVs throughout the establishment showing soccer matches. We received yet another taco, this time taking the shape of a burrito, more or less. The chefs filled the taco with both pork and fried pork rind, plus a mixture of onions and cilantro on the side to enhance the taste. Again, I finished my plate satisfied albeit extremely full from all the mixture of food I had eaten that night.
Exploring Food in Mexico and Beyond
Even though I was probably a terrible tourist for not listening to Luis and instead focusing on how much deliciousness I could shove down my throat, Luis did an amazing job of showing us around and taking us to some of the finest restaurants in Mexico City's Polanco district. I was very thankful to him for allowing me to try dishes I would have never ordered on my own. This was the first food tour I had ever tried, and I think I'll start making it a point to add them to my itineraries. Food is much more than a means to satisfy hunger. It envelopes a culture and a people. There is much more than food in Mexico, there are stories behind every mouth-watering dish.