A week after José's last day of the 2017-2018 school year, I had the pleasure of speaking with him about his first year working in a Miami-Dade public school. The most difficult thing José discovered about teaching in a public school was deciding which methods to use and when to use them. It became especially important as he worked alongside staff and with the administration. José was trained to use methods he learned from his master's degree. However, teachers in his Miami-Dade public school handled things differently than what he had been accustomed to.
Since the last time we spoke, I could hear a new tone of happiness in José's voice that hadn't been there before. As our conversation went on, I got the sense that the happiness stemmed from a sense of accomplishment. He gave examples of how his students had achieved higher scores each week, and soon, each month. While José was talking, I could feel his excitement reaching new levels.
José also discussed many things that he learned throughout his year in a Miami-Dade public school. As I listened to José talk about getting his own classroom and teaching his own class, I understood just how much he truly cares about his job. José expressed that the most rewarding part of his year was how his students showed 5% increase or more in their overall learning objectives.
Meet José: Mr. Positive
 "At the end of the day they are kids. They want someone there to say: I care about you, and I want you to succeed." – José G. Carrasco
What is a typical day at your school like?
"The students go to homeroom for 10 minutes at the beginning of the day. First period is 60 minutes. All other class periods during the day are 50 minutes long. I teach 4thand 5thgrade math. My first three classes were 4thgraders who were all on task. None of these classes were failing when I arrived in December."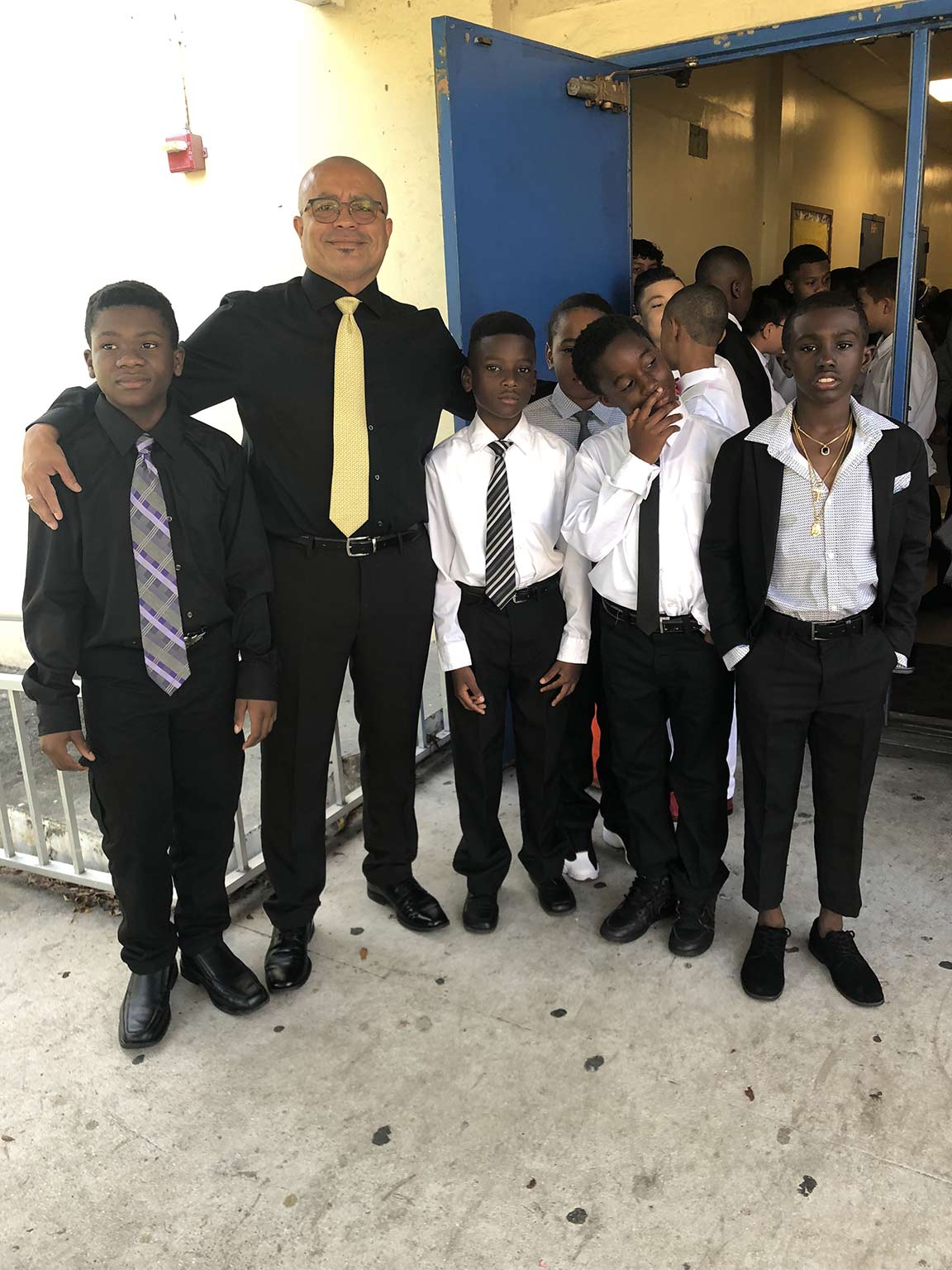 "After lunch, I taught two 5thgrade classes. One was an upper-tier class and the other was a lower-tier. The higher-tier math class was ill-prepared when I first arrived. The teacher before me was not prepared to teach math or science. She was a good teacher, but she specialized in neither math nor science. After I arrived and began challenging them, they went up six points or more in their level that year!"
"My lower-tier 5thgrade class didn't have adequate training in basic, fundamental skills such as reading, writing, and simple math (adding and subtracting). Some days I felt like I was teaching English to English speakers. This group of students spoke a lot of slang and needed the basics broken down."
How many people do you work with? How many classes do you teach?
"I teach six periods, so, I teach a total of six classes that are all math in English."
Are you forming any working relationships with coworkers?
"Yes! For my first year, I worked with leadership and math program coaches. I also worked with the Sunshine Club to create comradery amongst other teachers."
Are you forming bonds with your students?
"Of course. My students are the most important part of my job. I make it my priority to understand their needs, as well as who they are as people."
Does the school foster the creation and maintenance of these relationships with the students inside and outside of the classroom?
"Yes, I am a member of the 5000 Role Models of Excellence Project. This club teaches boys how to be gentlemen and good members of society."
What is your favorite part of the day? Why?
"Testing. I like to see my kids shine and to see the fruit of my labor as soon as possible. I like to give them an exit question before they leave, which is usually something to go home and think about."
How is material being taught to students? Is there a specific method being used?
"I don't shoot out material and have them take notes simply to take notes. I use a student-centered approach. This means that we add as we go. I also use a conceptually-sound approach, which means that they don't have to memorize formulas. The goal is for my students to know how to formulate ideas for themselves. I don't want them to memorize formulas and then just forget them after the year is over. I want my students to remember what is being taught to them."
How do you prepare your lessons for each class?
"I have a topic I want to speak about each class. I know my student's strength and weaknesses. After I introduce the topic, I break them up into groups based on diversified instruction."
Do you work at a public school? What does that mean to you? What does that mean according to the state of Florida or the people you work with?
"Yes. Public school for me means that you want to work with a broader demographic pool within the community. You aren't cherry picking your students. Rather, you are teaching the students that live in the area assigned to that school. This reaches a broader teaching audience, I feel."
What standards are classroom teachers using to measure the performance of their students?
"The Florida Standard Assessment. This is a standardized test used at the end of the year for elementary schools."
Does your school have a set of shared goals and expectations for the knowledge and skills that will help their students succeed?
"Yes. My school believes in "leading our own lives with astute scholarship and well-rounded character. We will be kind, own our responsibilities, and work to achieve the highest levels. We are building our future at an 'A' school under construction."
Looking back at our first Teach USA series interview, what have you learned most about yourself since your arrival to your school? Has anything changed?
"Since our first interview, I have learned that I am up for any challenge. I am even more energized by my students from this year than ever. Also, I will be working at the same Miami-Dade public school next year. However, the administration will be changing. Things will continue to get more systematic and structured. At the beginning of last year, I worked at a charter school in Miami-Dade, and it was the opposite. I felt as if I was all over the place on most days, mostly due to the lack of guidance and support. They seemed to have a mentality of a free-for-all, and a figure-it-out-yourself attitude."
Final Thought About Teaching in a Miami-Dade Public School
After speaking with José for the second time, I knew he found the right location. As an international educator, or an educator in general, the first years are the hardest. You work to find your school, then to find the rhythm of the school, parents and most importantly, your students. José found that out and in record time. He became a role model and a leader for the young men at his school by participating in the 5000 Role Models project. José helped out when asked and was rewarded by receiving his own class for the 2018-2019 school year. He will not be teaching different levels. José will be teaching all subjects to one class of students.
This summer he will be taking professional development classes offered by Miami-Dade public school system and will also be spending time with his two daughters.