I was out on a tourist pirate ship dolphin-tour one midwinter afternoon in 2016, and the water was just the deepest sapphire blue. The waves crashed about like small avalanches of pearls. Although I didn't see any dolphins that day, I still had the ultimate blast as I flew from the boat via rope and into the open sea, as carefree as I had ever been. That day I told my sister half-jokingly that I wanted to try moving to Tenerife. 
The day that I truly fell in love with Tenerife, though, I was standing on the black sandy beach, Playa Jardín, with the Atlantic water lapping at my calves and the weather warm and comforting when Mt. Teide caught my eye. It was capped in snow. My first year in Madrid was one of the most stressful of my life, but that memory stayed with me, helping to center me in times of strife. 
Moving to Tenerife and Discovering What Living in Paradise Really Means
"Imagine living here" is something that we all say when, or if, we find ourselves fortunate enough to holiday in an extraordinary place. We rarely get to make it a reality, however. Moving to Tenerife seems like a crazy, impulsive, reckless thing to do even to this day, and yet here I am. With the two suitcases I packed, one backpack, and a half-baked plan, I got on a plane. The original idea was to get assigned as a teaching assistant on the islands, but it didn't work out. I wasn't deterred. 
Living on the island is definitely a little different from vacationing here. During my initial nine-day stay, I traversed nearly the entire perimeter. I've been here now since September 2020, and I've barely left Puerto de la Cruz — the town I now call home. Part of it is due to the pandemic, yes, but it also comes down to my personality. I'm adventurous in short bursts, but otherwise, I'm a homebody. That said, I'd like to share with you a few things about living here in this paradoxical paradise.
The Cons and a Few Small Heads-Ups about Renting an Apartment Here
If you do move here, and you don't have a Spanish-based income, regardless of your savings, people will hesitate to rent to you. I make pretty stable money from

VIPkid

and

Cambly

, but that didn't really matter to prospective landlords. 

If you want to rent an apartment alone without a partner, you will have a hard time. They will fear losing money should something happen to your income. In this way, I was, and am, lucky to have my boyfriend. They also prefer to rent to older retired folk with a pension.

The weather in Puerto is finicky. It's definitely warmer than in Madrid, but it often changes from hour to hour, if not even faster. It's best to dress in layers because it could be absolutely cloudy one minute, and a bright, clear, sunny day the next. 

Everything is uphill and steep. Somehow, I conveniently forgot about this or didn't realize it my first time around. Prepare to sweat.
A Few Good Places to Eat
Pizzas Magic Corner — You know those places that look slightly off the beaten path, a bit like a dive bar, but they always have the best, yet cheapest food? That's how I would describe this place. Forget the fancy-schmancy pizzas from the Italian eateries. This joint's pepperoni and mushroom pizzas are out of this world. And if you don't like mushrooms, I only have one thing to say to you: How dare you?!?! (They have other options, of course).

La Croquet Deli-Café

— This place is in the center of it all. Believe the hype you'll see in the reviews. Their gorgeous desserts and elegant coffees are 100x better than Starbucks. And this comes from a loyal Starbucks fan. If you aren't an SB fan, and you're maybe not all that impressed, consider this: The hot fudge brownie with a scoop of coconut ice cream will infuse your senses and skyrocket you to heaven. They have other crazier options, but that is now my go-to favorite. 

Any place on Calle de la Verdad, translated to "Street of Truth." This little side street is easily missed if you blink for too long. Should you find it, however, you will notice that it is generously decked out in all kinds of plants, giving it a really nice, quiet atmosphere. You'll love sipping a glass of Vermouth here at any one of the little terrace restaurants while escaping the heat of the day in a veritable street garden. 
Some Historical Legends
Tenerife and the rest of the Canary Islands are so much more than popular holiday destinations. They are a place with their own rich history, culture, and even myths. For example:
Legend has it that the islands originated from the mountain tops of the lost city of

Atlantis

. 

Guayota was/is an evil entity said to have made his home in the bowels of Mt. Teide. It's said that Achamán, all-powerful god of the Guanches, the pre-Spanish Berber-descending inhabitants of Tenerife, fought Guayota and this explains why Teide has been less active. 

Guacimara

, a Guanche Princess of Anaga and an amazing warrioress, fought off the Spanish invaders, and at the last moment, rather than being taken hostage, threw herself off a cliff, and became a mermaid who lives even until this day.
A Trio of Random Things
There is a

butterfly sanctuary

and it's delightful. It's not in Puerto, so you'll need to head towards Icod de Los Vinos. It's a village a bit to the south and it's super nice in its own right. You can also see the 1,000-year-old "Dragon" tree while you're there. 

Something you might not notice if you're merely vacationing here is that there are a lot — and I mean

a lot

— of cats here. I think I've counted at least five black neighborhood cats in particular. The locals feed them and they are just the sweetest things. I already have two "friends" who sometimes wait for me on my evening walks, and they compete for my attention. Additionally, a lot of people not wanting to go through the hassle of moving with their pets abandon a lot of them on the islands. If we end up staying here permanently, I think adopting one would be a lovely thing to do. If you would like to know more about rehoming your pet on the island, check out the

Canary Island Pet Re-homing Service

group on Facebook. The group has dedicated itself to helping out strays from all over the Canary Islands. 

Islands do Christmas right. Usually, by the end of the holiday, I'm so over it. I never wanted it to end after moving to Tenerife. There were lights up everywhere and they had lovely holiday music blasting in the streets. It was pretty cool, to say the least.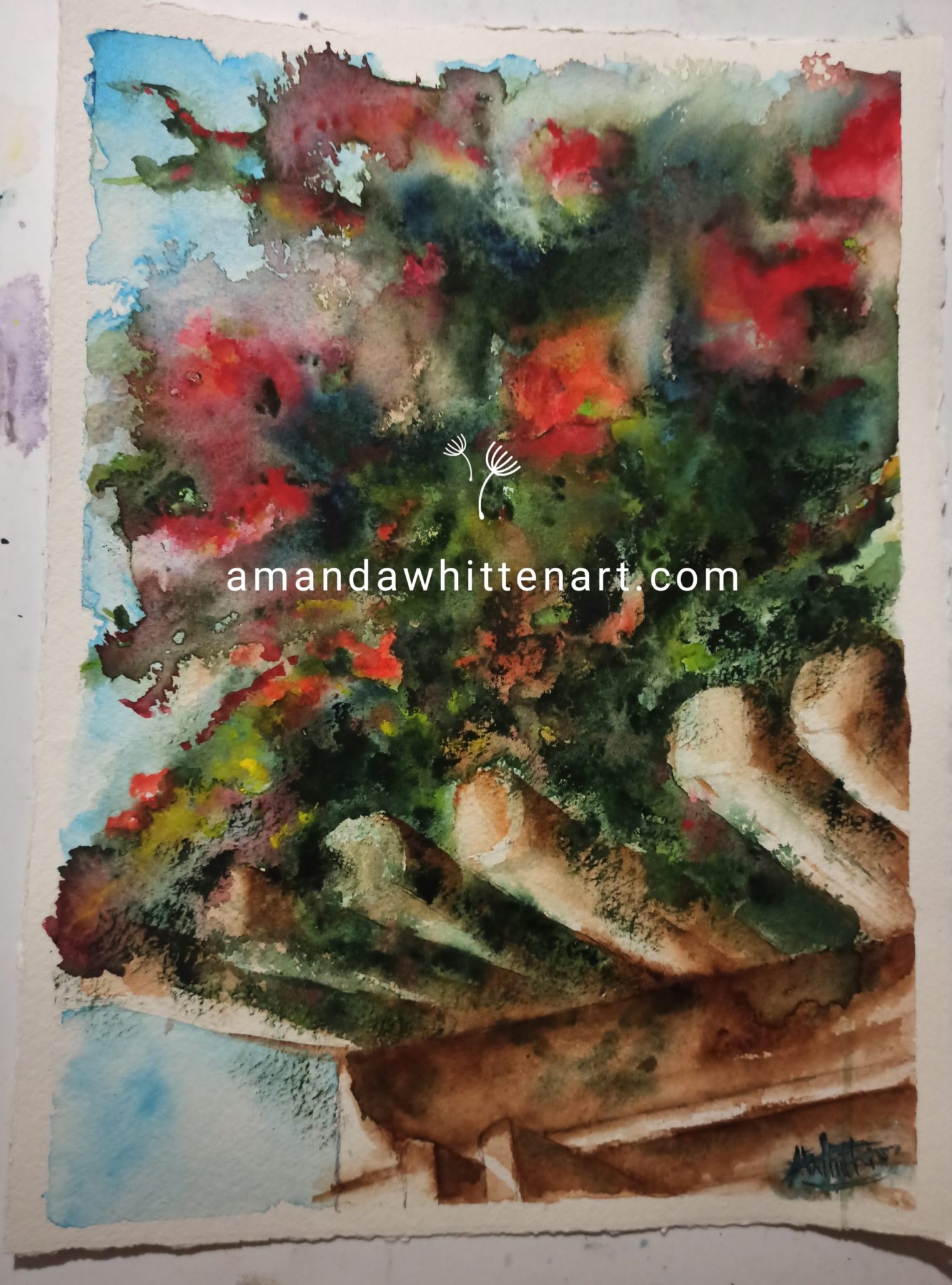 Only time will tell what happens after moving to Tenerife. This is one of the first occasions I've ever felt so safe and secure in my living situation. I find it so comforting to simply exist in a place filled with so much beauty. I find ample opportunities from which to draw my artistic inspiration. There are so many gorgeous flowers on the walls, in the ravines, and on the wooden trellises that populate the streets everywhere. The people are very friendly. It's enough to make even the most unpoetic person (like myself) desire to compose something. Speaking of which….**Ahem**
Haha just kidding. I wouldn't subject you to all that.
Thanks for reading…
Squirrel Girl
AKA Amanda Whitten