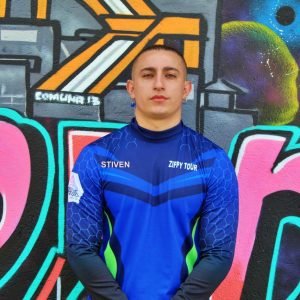 Stiven Álvarez is a Medellín tour guide. Years of pounding the streets of Comuna 13, with tourists in tow, has cemented his association with the area. Stiven has seen investment throughout the community with the installation of elevators giving this network of neighborhoods a real uplift. There's a newfound optimism amongst residents who share a confidence in the direction their place of address is moving in.
As well as being his place of work, Comuna 13 is also Stiven's home. He has lived in the group of barrios for 21 years now, since moving there as a two-year-old from the countryside. The area started to change twenty years ago, but it has been a gradual progress, rather than an overnight transformation. Step by step, you can see this Medellín postcode edging onwards and upwards.
Living in Comuna 13
Residing in Comuna 13 has very much been a hard-knock life for Stiven. He has lost two friends to the violence which used to dominate the neighborhood. However, he says things have improved to such an extent that the barrios are now the most visited of all the ones in Medellín. From being a no-go zone, it has become an itinerary essential.
From its dark days, Comuna 13 has metamorphosed into an altogether brighter place. Part of this change has been brought about by the vibrant street art that lights up the calles. The graffiti is inspiring and instantly Instagrammable, with tourists sharing photos of the neighborhood on their accounts. This serves to raise the profile of the barrios and promote an altogether more positive image.
Stiven is excited to show you around his home, Comuna 13. He and his fellow Zippy Tours guides are ready and waiting for you. Don't delay, book a place with them today. You'll be able to follow in the footsteps of our director Leesa Truesdell, who reveals that visiting these neighborhoods was a life-changer.