Continuing My Adventure Traveling Peru
This is part two of a four-part series. Click here to read part one.
Day 2
I woke up early on Monday morning, eager to begin another hectic day of traveling Peru. I walked down to the coast to get breakfast with my new friends and check out the Pacific Ocean. After enjoying a crepe and some orange juice, we made our way back to the hostel, packed up our things, and said our goodbyes. Since Sarah and I had the same flight (if you remember from part one), we decided to share a taxi to the airport. Everything was going smoothly until we had to pay 60 soles for not printing out our tickets. If you fly Vivaair, keep this in mind. Once boarded, I found myself seated in the middle seat of the last row of the plane, so I enjoyed a nice sixty-minute flight with my knees down my throat. Gotta love being tall!
Arriving in Cusco
Now, I love flying more than anyone (I wanted to be a pilot when I was younger) but this might have been the biggest white-knuckle flight I've ever taken. You see, Cusco is nestled in the Andes Mountains, making it impossible for planes to just simply fly in straight on. When I heard our landing gear going down, I looked out the window to see us flying in between two humongous, majestic mountains. If that wasn't bad enough, our pilot then made a sharp left turn (which lasted way too long) before leveling out right over the runaway and putting us down. I typically hate people who clap when their plane lands, but that little maneuver almost had me applauding. Bravo, señor piloto. Bravo.
Now that I was in Cusco, it was time for the moment of truth: how would my body handle the altitude change? The minute the doors to the plane opened, I could feel how much thinner the air was. I was breathing a little bit more rapidly than normal and my chest was a tad tight. Luckily, I had the coca leaves readily available and started to chew on a few. I would later find out that the best method is to put 15 leaves in your mouth and chew for five minutes with a ten to fifteen-minute break in between. Nonetheless, I wasn't armed with this knowledge as I stepped into Cusco's mountains. I wasn't sure what I should have been feeling, but the initial lightheadedness I had went away.
First Day in the Mountains
While I was shoving leaves into my mouth like a damn koala bear, Sarah was negotiating taxi rates to the main square, Plaza de Armas. We were able to get a ride there for a little less than the normal rate (which was already extremely cheap). I realized right away how different Cusco was from Lima. First and foremost, I could see the sky and the sun, and because of this, it was a lot warmer. We were way above the overcast haze that sat on Lima.
Our taxi dropped us off in the plaza, where we made plans to meet up later. We then headed off to our respective hostels. Unfortunately, the walk to mine was entirely uphill. Normally, this wouldn't be an issue. I exercise. I'm relatively fit. But when there's barely any oxygen, none of that matters. You'll still feel like a fish out of water. I huffed and puffed my way along, cursing myself for smoking that one cigarette the day before in Lima. All the while, 90-year-old Peruvian ladies were flying past me. And to make matters worse, massage parlor shills were trying to coerce me into their establishments. Don't tempt me, lady! Whatever. Maybe I wasn't in as great of shape as I thought. Anyway, I eventually arrived at the Dragonfly Hostel and took a fat nap.
A Unique Dinner with a Friend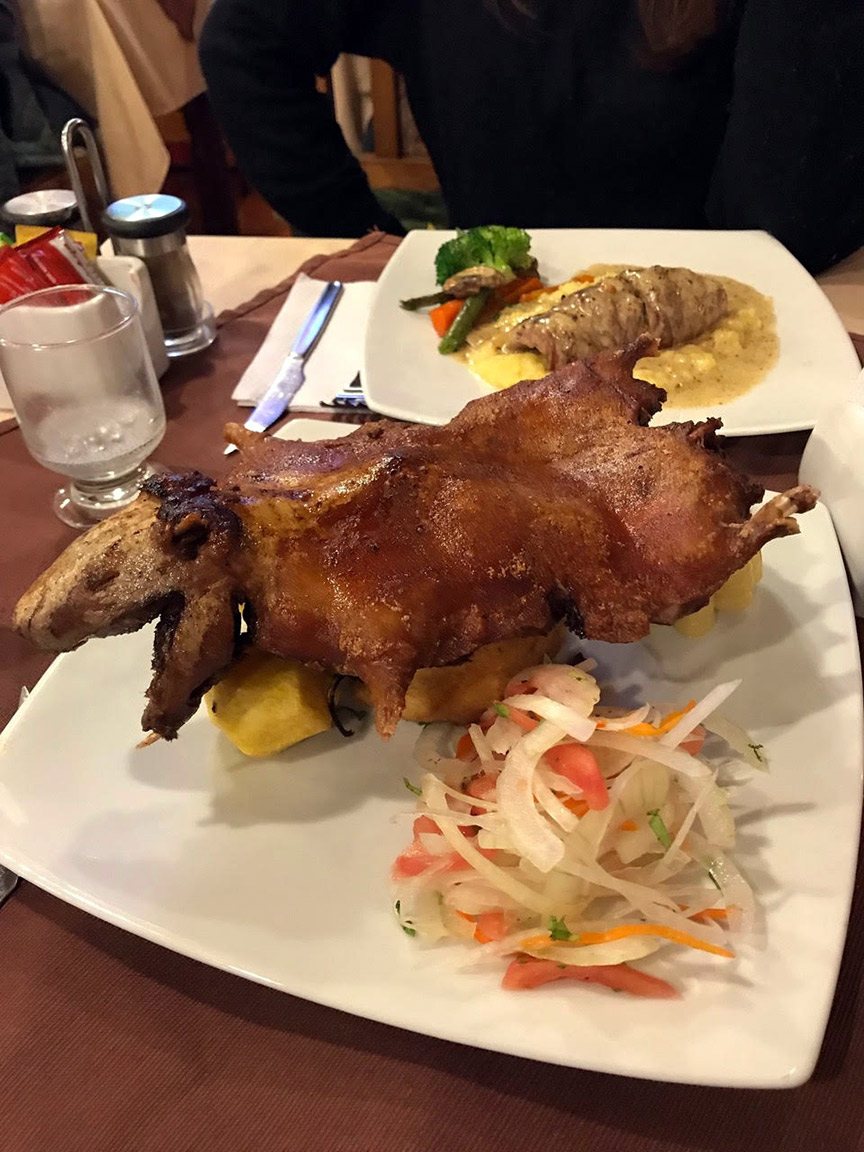 After waking up and showering, I made my way back to the Plaza de Armas to meet up with Sarah for some dinner. It was night now, and the view of the lit-up houses on the surrounding hills was unbelievably awing. We walked around a bit, gauging our options, and agreed to settle on a restaurant called Los Portales. 
It was at this very restaurant that I decided to try something new: guinea pig. I knew I couldn't leave Peru without giving it a shot, so when I saw it on the menu, I figured I would get it out of the way. Let me tell you, it's actually not terrible. I don't think I would ever order it again, but if I was forced to eat another one, I wouldn't complain. It's got a very gamey taste and has a bit of fat, but all in all I can see why it's a delicacy. Sarah was completely disgusted with my choice. She told me so all throughout dinner!
Day 3 
I was up very early the next day because I was going on my first excursion of the trip: riding ATVs to Moray, Maras, and the salt flats in the Sacred Valley. For those with more time in Cusco, other day-long excursions include Rainbow Mountain and Humantay Lake. I booked this activity with Willka Travel – Day Tours through TripAdvisor. Since I had an extra ticket, Sarah agreed to come along as my passenger (my crazy ATV driving definitely scared the crap out of her though!). Our guide picked us up at the hostel, which was very convenient and drove us about an hour outside of Cusco to a small village.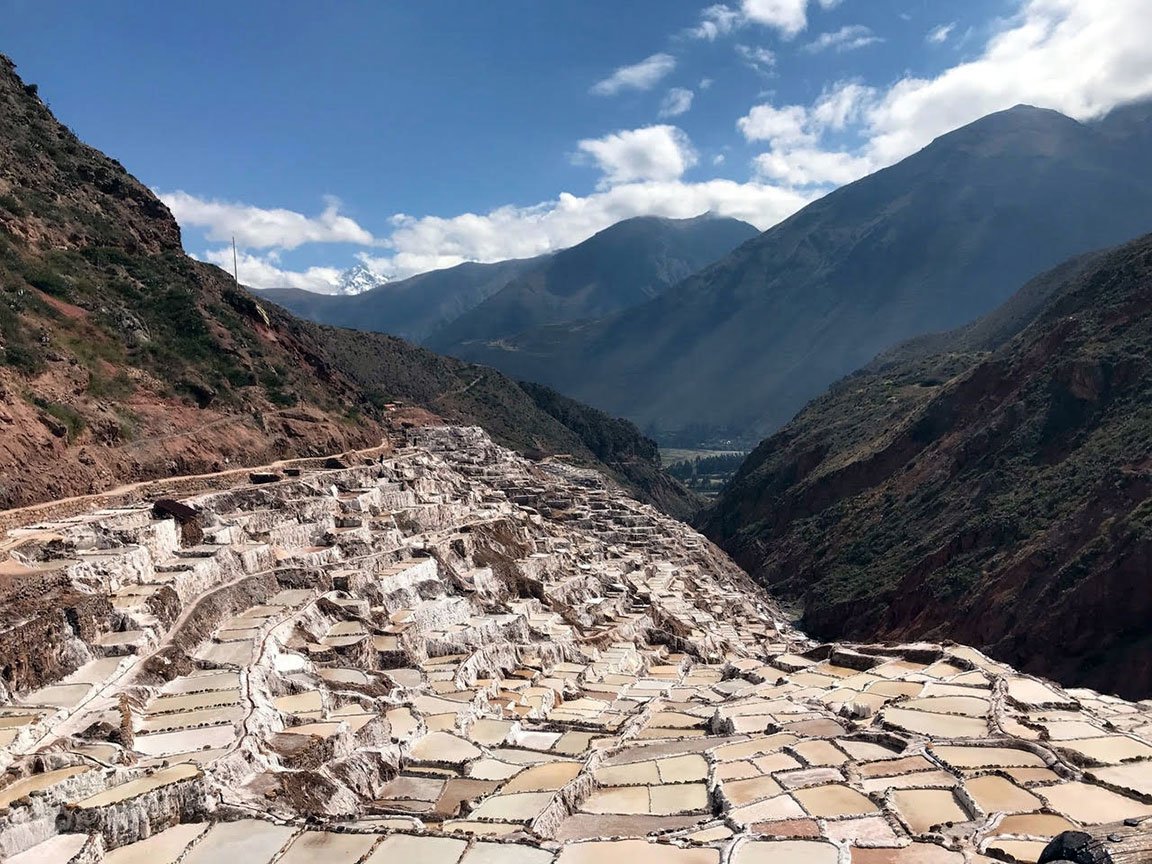 The Excursion
Our first stop was Moray, an archaeological site that contained ancient Inca terraces. Shaped almost like an oval, these layered terraces kind of reminded me of the Roman Amphitheatre. Except, instead of serving as a major source of entertainment, these terraces were for farming and irrigation. Their exact uses are still unknown but, according to our guide, their shape and orientation utilized the wind and sun to create drastic temperature changes between the top and bottom layers.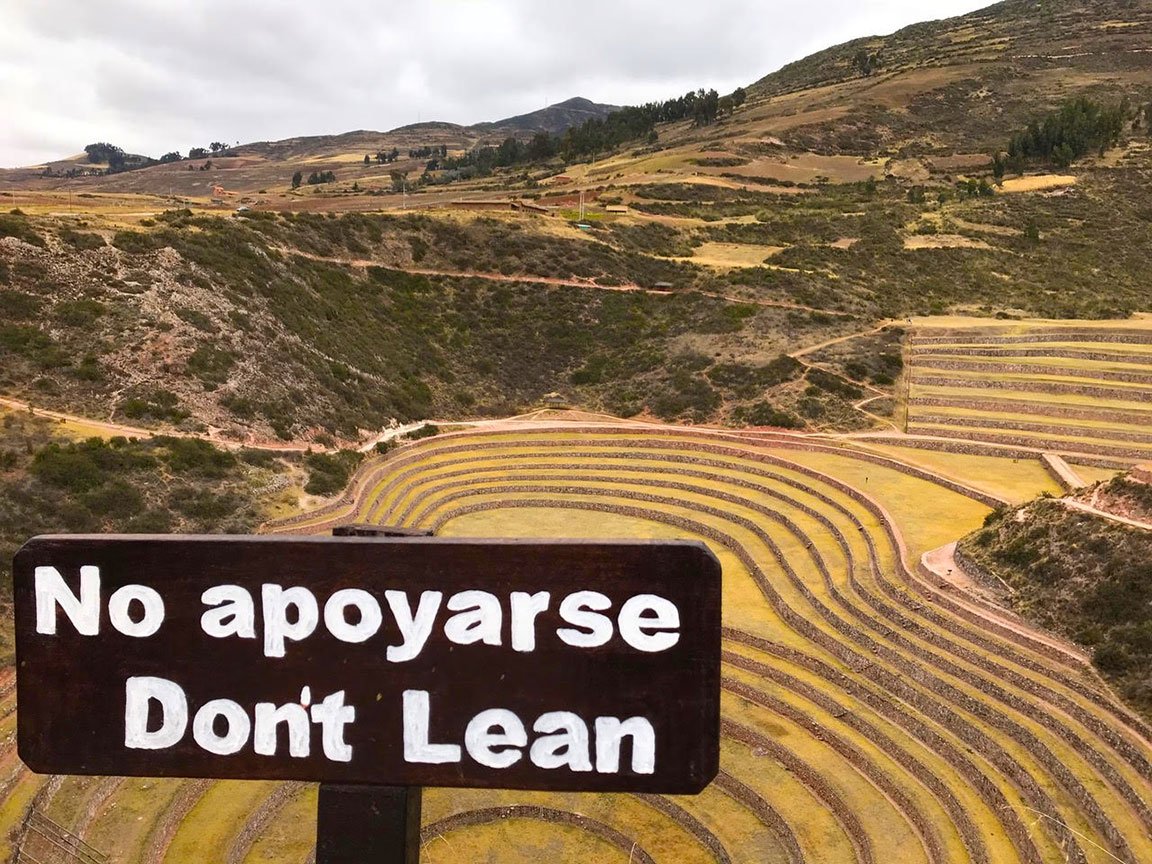 After a short break to look around, we took off again. We passed through gorgeous, picturesque scenery. Some farm animals here, an abandoned church there, and we finally found ourselves in the village of Maras. Here, we boarded a van and headed to the famous salt flats. The flats were nestled between two large mountains. And when I say nestled, I mean they were at the very, very bottom. I had no idea what I was looking for as we zig-zagged our way down. Eventually, I was blown away by the bright, white ground that contrasted with the greens and browns that made up the surrounding landscape.
An End to a Great Day
Back in Cusco, Sarah and I walked around a little bit covered in dirt from all our outdoorsiness. I bet we probably looked like Pig-Pen from Peanuts. We decided on grabbing an early dinner and enjoying some famous Peruvian lomo saltado. We also ordered the much coveted and surprisingly refreshing Inka Cola. This would be our last goodbye before we went our separate ways. She would be staying in Cusco a couple more nights to do more excursions, like Rainbow Mountain, before seeing more of Peru. I would be starting my four-day hike to Machu Picchu the next day! In my opinion, besides the sights and experiences, meeting people whom you'll probably never see again is easily one of the greatest things about traveling. It teaches you to get out of your bubble and be who you truly are.
This part two of a four-part series. Click here for here for part three.