by Tyler Black
This is part two of my trip to Mexico City. Check out part one here!
My first day in Mexico City was so much fun! Our Dreams Abroad team member, Stephanie Vargas, gave me an impromptu tour. We saw so many incredible things like the Palace of Fine Arts and Zócolo, and ate some savorly tacos from Taqueria Los Cocuyos. I was beyond excited for the rest of my time in Mexico City.
Day Two of My Mexico City Itinerary
I woke up Sunday morning with a text from Stephanie letting me know about a great spot to grab breakfast. Since she didn't steer me wrong the day before, I decided to check it out before starting my day. The restaurant was called La Casa de Toño, just down the street from Los Cocuyos. There were so many choices on the menu, but I ended up ordering enchiladas verdes and coffee. Stephanie was two for two on this trip. It was a great way to start the day.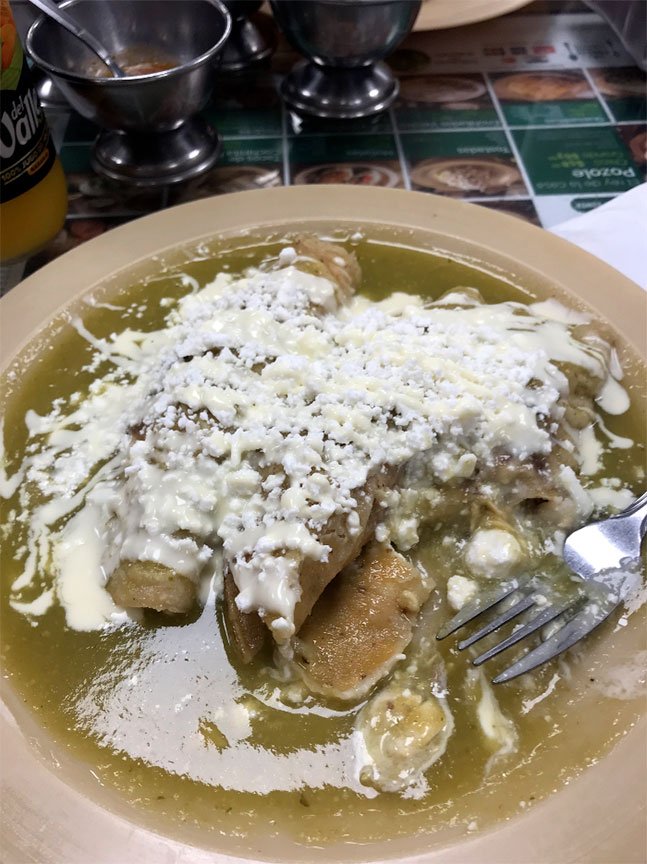 Coving a Lot of Ground With City Tour
My only plan for the day was to take the Hop On/Hop Off bus by a company called City Tour. I usually avoid these buses like the plague, but since Mexico City is so big, I needed the bus to cover a lot of ground. This is a good way to check off a lot of things on your itinerary in Mexico City. I walked over to Zócalo, found the bus stop, and hopped on. A man was on board was selling boonie hats to help shade us from the sun. However, since it was a brisk 70 degrees, I didn't pay any attention to him. If you've read my other articles, you'll know that I have a long history of underestimating the sun. You see where this is going.
BBVA Tower and Angel of Independence
The bus headed off west, passing by the Palace of Fine Arts before making its way towards the unofficial financial district. At least, that's what I called it since it was where all the skyscrapers were. Their designs were very unique! The BBVA tower was most definitely the coolest looking building I've ever seen. I got off at the Monument to Independence (also known as the Angel of Independence) and took a stroll around the vicinity. Vendors were selling souvenirs and food up and down the street. I debated buying some stuff but didn't want to lug anything around all day, so I just enjoyed seeing a new part of Mexico City. This part felt a lot more modern and familiar compared to the historic district, which comprises itself of older buildings (obviously).
Chapultepec Park and Storytelling 
I got on the next bus and rode towards Auditorio Nacional. Next to the bus stop was a giant park called Chapultepec that I saw from my plane and wanted to check out. The park did a great job of blocking out the hustle and bustle of the city, much like Central Park. I made my way towards the middle of Chapultepec and came across a woman telling stories to a small crowd.
I decided to sit down and listen because her Spanish was easy to understand since she geared most of her stories towards children. She told one about a boy who felt scared of everything. Throughout the story, he faced his fears and became more and more courageous. It was oddly inspiring! Behind the storyteller was a large lake that people were rowing boats on. The city stuck out in the background as well so it was a nice spot to relax and admire the view.
Fuente de Cibeles in Plaza Madrid
Afterward, I picked up the bus again, this time eager to get to a location I had circled on my map since the day started: Fuente de Cibeles in Plaza Madrid.  Madrid, Spain donated the fountain to Mexico City in 1980 as a symbol of their good relations. Having lived in Madrid for a year, seeing the smaller replica of the very famous Spanish fountain was so special to me. I may have emotionally reminisced about my time in Spain for a good fifteen to twenty minutes but we won't go there. Spanish restaurants and tapas bars filled the surrounding neighborhood, which made the nostalgia hit even worse. I planned on going back to that neighborhood but unfortunately couldn't find the time during the rest of my trip. I do recommend adding this part of Mexico City (Roma Norte) to your itinerary.
Back to Zócalo to Rest up for a Big Excursion

The day was coming to an end so I hopped back on the bus and enjoyed the refreshing ride back to Zócalo. A quick selfie later, I saw my beet-red face. It hit me that even though it felt slightly cool out, the sun's rays continued to beat down on me. Suddenly I regretted not getting that hat earlier in the day. I knew this wouldn't bode well for the rest of the trip. I never learn. Anyway, I went back to the hostel to rest up since I had a big excursion the following day to Teotihaucán.
Stay tuned for part three at the Teotihuacán Pyramids!