Part One: New Years Trip to Find Things to Do in Edinburgh
As summer came to an end, I started to set my sights on New Years activities. Many of my friends were eying Colombia. That immediately caught my attention because I wanted to explore more of South America after my trip to Peru. Plus, they had family and accommodations there so it would take some serious pressure off finding trustworthy and affordable hostels/hotels/Airbnbs. Unfortunately, the day we went to buy plane tickets, the price was well over a grand. This was way over my "broke, post-college" budget. So, I looked over towards my old stomping grounds: Europe.
I found a very affordable flight on Norwegian Airlines to Edinburgh flying out of Stewart International in New York. Although this airport was two hours away from me, and not one I would ever choose to go to, the cheap flight was all the convincing I needed. So on a late Friday night in December, me and three pals (Donald, Johnny, and Andres) set out on our New Years trip to the U.K.
The trip almost ended as quickly as it began. I was busy stuffing my face in the airport and didn't hear the final boarding call. Donald called me to say that everyone had boarded and that they'd been calling our names. What I heard was, "They just started boarding," so as I lollygagged back to the gate with a full stomach, Donald was frantically motioning to me to hurry up.  Luckily, the travel gods were on my side and I made the flight.
Day One – A Walk Around Town
We landed in Edinburgh around 7:00 a.m. local time after a rather bumpy landing. I slept the whole five and a half hour flight so I was ready to go. We slowly made our way through passport control, watching a woman vomit as she entered the airport and get whisked away to some back room. So naturally, the trip was off to an exciting start! We got our passports stamped, collected our bags, and looked for a way into town.
We ended up taking the bus for less than £5 straight to the city center. The line was called Airlink 100. After a thirty minute ride, we were dropped off only a block away from our hostel: Edinburgh Backpackers Hostel. I highly recommend staying here if you're in the area, especially if you're looking for things to do in Edinburgh. Not only does it draw a very fun crowd, but it's also located close to all the meetup spots for tours and such. We were upgraded to a private four bedroom suite on the top floor; I had booked a fourteen-bed dorm so this had come as a great surprise. The travel gods were still on my side! But (there's always a but) there was no elevator. So we would later have to lug everything up a billion flights of stairs.
Hitting the Streets
Since check-in wasn't for a few hours, we popped in next door for some much-needed breakfast after we had dropped our bags off at the hostel. We then headed to the meeting point for our first tour of the trip. This was a free walking tour by Sandemans. Our guide took us down the Royal Mile, along the outskirts of Edinburgh Castle, through the Grassmarket, and ended in Greyfriars Kirkyard, a large graveyard with a very dark history. Along the way, we passed by bagpipers entertaining crowds on the street. We also passed through some of the city's many famous closes (alleys). Our guide shared many of Edinburgh's ancient secrets. Overall, it was an exciting tour and allowed us to get our bearings of the city for the remainder of the trip. It was a great way to figure out some things to do in Edinburgh as well.

After the tour, we headed back to the hostel to check in and regroup. Since we had hit the ground running, we decided to take a little rest and check out the common room where we met a handful of other travelers and played pool for a bit. We had a pub crawl hosted by Sandemans coming up soon after that, so we decided to head out to eat. There was a restaurant around the corner that had been highly recommended to us called The Albanach. The restaurant was known for its traditional Scottish food and bustling atmosphere. I had a delicious beer called Punk IPA by BrewDog and a meat pie which was less of a pie and more of beef stew with flakey bread on the side. Now that our stomachs were full of grub, it was time to experience Edinburgh's nightlife.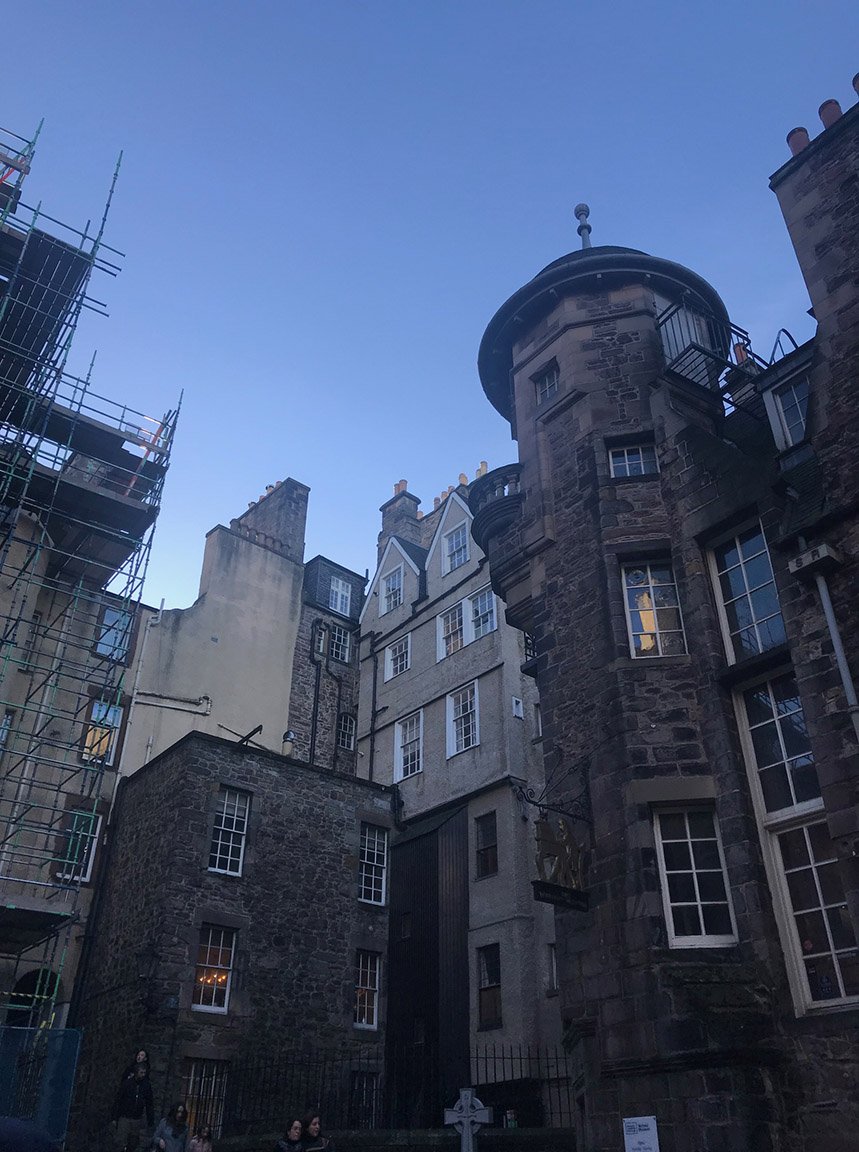 Edinburgh Pub Crawl
We met our guide and the rest of the group at The Globe Bar before setting out on a fun-filled evening. The crawl took us to five other pubs, but two pubs in particular stood out. One of the pubs, Revolution, specialized in Vodka-flavored shots; from berry all the way to popcorn. They were like Bertie Bott's Every-Flavored Beans from Harry Potter. Another pub was an old church turned into a Frankenstein-themed establishment (ironic, huh?). At midnight, an animatronic corpse lowered from the ceiling, looked around, and returned back to the ceiling. Then Thriller played. It was weird. Also, I don't think I heard a song post-2001 the entire night. I'm not complaining. Just an observation. Nonetheless, Edinburgh's pubs should definitely be on any traveler's list of things to do in Edinburgh.
Day Two – Storming the Castle in Edinburgh
It was very difficult to get up the next morning. We might have gotten a bit too carried away on the first night. However, we still had places to be and new things to see. So, as self-appointed leader of the group, I rallied the troops and got us all out the door in time for our tour to Edinburgh Castle. Our guide was an eccentric one who kept us all entertained for the whole two hour tour.
We stepped foot inside the castle walls and stood amongst many of Scotland's intense battles throughout it's long, long history. I was in history-nerd awe. Furthermore, the castle, which sat high above Edinburgh, offered some incredible views of the city. With views of its harbor all the way to the city center, I had taken enough Instagram pics to last me a year. After the tour, we checked out the castle's churches, soldier's quarters, and the dungeon. The castle was by far one of my favorite things to do in Edinburgh.
The Inevitable Crash
After grabbing a quick lunch, we headed back to the hostel to get some desperately needed sleep. Before snoozing, we tried to book tickets for the New Year's street party that we had heard so much about since arriving. Unfortunately, it was all sold out! Now what were we going to do!? Disgruntled, we all got some shut-eye before making a decision.
I woke up the group a few hours later to get ourselves ready for our Dark Side tour of Edinburgh. To my dismay, my rallying cry was not as strong the second time around. Nobody was ready to walk around again. I didn't blame them. We would just have to try again at the end of our trip. Nonetheless, we still had reservations at 9:00 at a sports bar so I could see my Eagles play. The bar was actually full of Americans and football fans alike. I felt like I was back at home.
Day 2 was in the books and the trip had been a blast so far. Would we be able to attend Edinburgh's famous New Year's street party? Stay tuned for Part Two and find out!