If you're looking for a great travel destination, look no further than Berlin. Berlin is a captivating city with something for everyone ⁠— art, history, architecture, politics, great food, and much more. I've put together a list of the top 11 things to do in Berlin, but the sky's the limit! Consider the following, and don't be afraid to explore on your own — that's how the best travel memories are often made.
1) Explore the Reichstag Building
Berlin's Reichstag Building is an impressive feat of architecture steeped in history. The building was constructed to house the Imperial Diet of the German Empire. Today, it's home to the Bundestag, the lower house of Germany's parliament. It opened in 1894 and housed the Imperial Diet until 1933 when it was set on fire.
You can visit the upper level of the building for impressive city views. Or, you can purchase a combination ticket to visit the upper level and the parliament floor. Make sure to book well in advance if you'd like to do this! Even if you don't visit the parliament floor, it is visible through a glass ceiling on the roof of the building.
To book tickets, you'll need to present an internationally-recognized ID (i.e., a passport) and register your visit. You can even book across the street from the Reichstag Building on the day you'd like to visit. Just be prepared to be flexible on your entry time.
From the top of the building, you can enjoy 360-degree views of Berlin, both from the building and from a platform above it inside an impressive glass dome structure. If you're lucky (or book ahead), you can experience fine dining at the restaurant on the building's roof.
2) Pay Your Respects at the Memorial to the Murdered Jews of Europe
The Memorial to the Murdered Jews of Europe is an impressive outdoor structure less than a five-minute walk from the Brandenburg Gate. Built in 2005, the memorial's architects, Peter Eisenman and Buro Happold, intended the space to be one of reflection. It is made up of 2,711 concrete blocks of varying heights. Visitors can walk through the crisscrossing rows of blocks as the floor beneath them undulates up and down. There are points in the middle of the memorial where you can't see past the hills to outside of the memorial.
An information center under the memorial costs just a few euros to enter. Availability may vary, so if you'd like to visit the information center, I recommend booking your tickets ahead of time. The memorial itself is free to visit.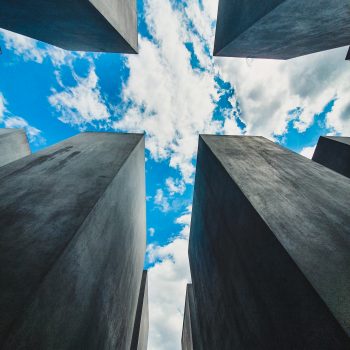 3) Discover the East Side Gallery
Berlin's East Side Gallery is a 1,316 meter long conserved graffiti project on the longest-surviving section of the Berlin Wall. Featuring the work of 118 artists, the artwork changes periodically so even if you've been before, the East Side Gallery is always worth a return visit. The artwork featured often makes social, political, and historical commentary (local and worldwide). It is one of Berlin's most-visited monuments, and with good reason. Enjoy a slow stroll and take plenty of pictures! This monument is also free to visit.
4) Visit the Berlin Cathedral Dome
The Berlin Cathedral is a work of art in its own right, but I think a visit to the dome is especially well worth it. The views of Museum Island and over the city of Berlin are stunning — especially on a clear, sunny, bright summer day. If you've climbed the stairs of any domes, observation decks, or clock towers abroad, this one is moderately difficult. If you're a bit tired after the climb, you'll exit through a well-located café on the way down, where you can grab a snack and something to drink.
5) Stop by the Berlin Zoo
The Berlin Zoo boasts one of the most comprehensive collections of species in the world. This is reason enough to visit, but it also holds historical significance. This attraction is the oldest zoo in Germany, having survived both World Wars. It opened in 1844 and occupies 35 hectares of space in Berlin's Tiergarten. You can see over 1,300 species of animals at the Berlin Zoo.  You could easily spend a full day there with plenty of places to eat and drink.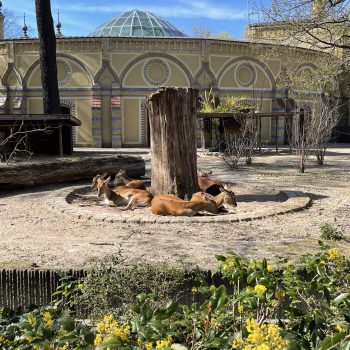 6) Check out Checkpoint Charlie
Now surrounded by modern businesses and restaurants, Checkpoint Charlie was the most well-known Berlin Wall crossing point between East Berlin and West Berlin during the Cold War. Today, you can see it preserved in the middle of the street where tourists stop to take pictures. Next to the checkpoint, you'll find the Checkpoint Charlie Museum, which is also worth a visit to learn more about the history of the checkpoint and East and West Berlin. Visiting the checkpoint is free.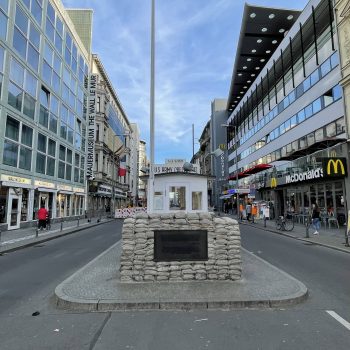 7) Ascend the Berliner Fernsehturm
The Berliner Fernsehturm is a 368 meter tower with a 360-degree viewing gallery at 203 meters. It provides some of the best views of Berlin (if not already evident from other items in this list, I like a panoramic view). The Fernsehturm is quite a bit taller than other overlook points on this list so that you can see further over the city. I went right before sunset to see the city cast in a golden glow and watch it transform into the night sky. The views were stunning, and I couldn't recommend it more. If you'd like to dine in the clouds, there is also a revolving restaurant in the Fernsehturm at 207 meters.
8) Shop at KaDeWe
The Kaufhaus des Westens, more often abbreviated simply to KaDeWe, is a large, well-known department store in Berlin that first opened in 1907. It has over 60,000 square meters of retail space and more than 380,000 articles available, making it the second-largest department store in Europe (after Harrods in London). With eight floors to explore, it's no wonder that KaDeWe attracts 40,000 to 50,000 visitors daily! If you get tired while shopping, you can visit the top floor to enjoy a drink and snack at one of the many cafés. Consider researching different German brands to shop for while you're at KaDeWe.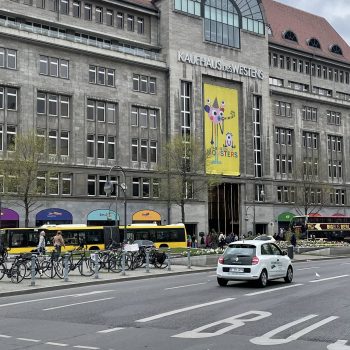 9) Stroll Around Charlottenburg Palace
Built at the end of the 17th century and greatly expanded in the 18th century, Charlottenburg Palace is a lavish Baroque summer palace featuring lush gardens, historical paintings, intricate tapestries, and delicate porcelain. The rococo style is also evident throughout.
When you visit you'll have the option to buy a combo ticket that includes up to four add-ons. At a minimum, make sure to visit both of the palaces that are part of the complex. Art, architecture, and history lovers alike will be engrossed in the attention to detail and artistry seen in several of the room's carefully painted walls.
10) Take a Trabi Safari
The Trabant, often called Trabi for short, was a small type of car produced by former East German car manufacturer VEB Sachsenring Automobilwerke Zwickau from 1957 until 1991. These cars circulated in East Berlin and East Germany and featured a unique manual transmission, steel-frame body, and duroplast body (a hard plastic made from recycled cotton waste). They were coveted in East Berlin, but after the Berlin Wall came down, they fell quickly in popularity.
Today, a small handful of companies in Berlin operate tourist rides in classic, original Trabis. It's a great way to see the city in style. I saved this experience for my last day in Berlin as a fun recap tour, but it would also be an excellent way to get your bearings in the city on your first or second day.
On my tour with the company Trabi Safari, you have the opportunity to drive your own Trabi on a guided tour of Berlin. Of course, they give you the opportunity to practice the gear shift (which works a little differently than other manual cars) before taking off.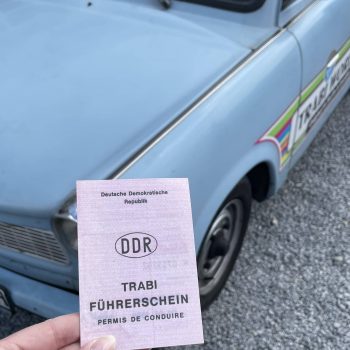 11) Refuel with Apple Strudel at Café Einstein Stammhaus
Berlin has lots of delicious foods that are worth trying, but one I knew I didn't want to miss was apple strudel. Café Einstein's location in Stammhaus has one of the best, so I made sure to stop by on my last day in Berlin for a warm apple strudel with vanilla ice cream. The location is beautiful, as is the restaurant. If you prefer your strudel with cream on the side, that's also an option.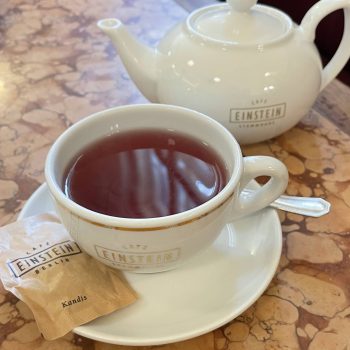 Honorable Mention: Museum Island
There are so many wonderful things to do in Berlin that it's hard to fit them all on one list! Museum Island absolutely deserves an honorable mention. Located on Spree Island, Museum Island consists of five huge museums and is one of Europe's most important museum sites.
Museum Island includes ​the Altes Museum (Old Museum), Neues Museum (New Museum), Alte Nationalgalerie (Old National Gallery), Bode Museum, and the Pergamon Museum. The museums opened in succession over 100 years, spanning from 1830 to 1930. Arguably the top attraction on Museum Island is the world-famous bust of Nefertiti, which is over 3,000 years old. You can find Nefertiti's bust in the North Dome Hall of the Neues Museum.
Whatever you choose to do in Berlin, you're sure to have an incredible time. My trip included a full week in Berlin, which offered me the perfect amount of time to explore, rest, and enjoy all the city has to offer. What would you add to this list?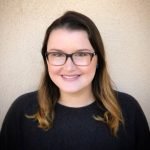 by Emma Schultz