From my experience, there seems to be a few main reasons for out-of-province visitors to travel to Manitoba. In this article, I wanted to share some of the top things to do in Manitoba, Canada.
A Manitoba for All Explorers
For lovers of the great outdoors, Manitoba offers beautiful forests and lakes for camping, hiking, birdwatching, hunting, and fishing. Wealthy American professionals spend a lot to fly to remote lodges in the depths of the Manitoba wilderness, hiring full-time guides to show them a good time without the dangers. 
On top of the great outdoors, Manitoba is one of the best places in Canada to experience Canada's indigenous culture. Over 100,000 indigenous people live in Winnipeg alone.  Visitors from far-away places like Japan and Germany come to Manitoba to learn about Aboriginal arts, culture, and philosophies.
For those seeking a more urban scene for its nightlife, Manitoba has a legal drinking age of 18. Because cannabis use is legal in Canada, young people from the Northern United States come up for weekend party binges. 
Things to Do in Manitoba, Canada
There are many other attractions that should draw international travelers to Manitoba. Below are my suggestions for the best things to do in Manitoba that merit a trip to North America's friendliest country.
1. Winnipeg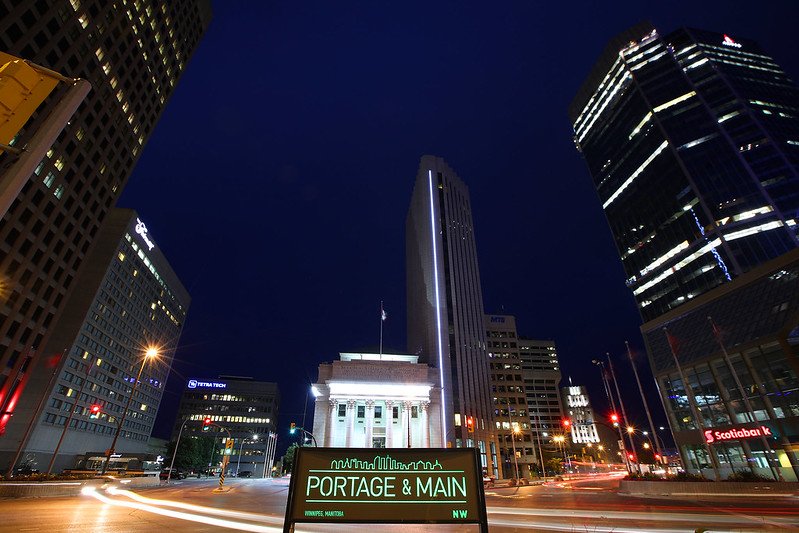 Winnipeg is Manitoba's capital. It's the province's largest city with around 800,000 people, so you should definitely spend a few days here to get a feel for all it has to offer. 
Festivals
Winnipeg has several world-famous annual festivals. The Festival du Voyageur is Western Canada's largest winter festival, sporting a French-Canadian flair. The Winnipeg Folk Festival is Canada's second-largest folk festival while the Winnipeg Fringe Theatre Festival is the second most popular fringe festival in North America. Conveniently, the main Folk Festival site is just 15 minutes north of Winnipeg in Bird's Hill Park. The Fringe Festival offers a wide variety of entertainment in numerous venues downtown. Finally, Folklorama is the world's largest and longest-running multicultural festival where we celebrate the culture and cuisine of those who immigrated to Winnipeg.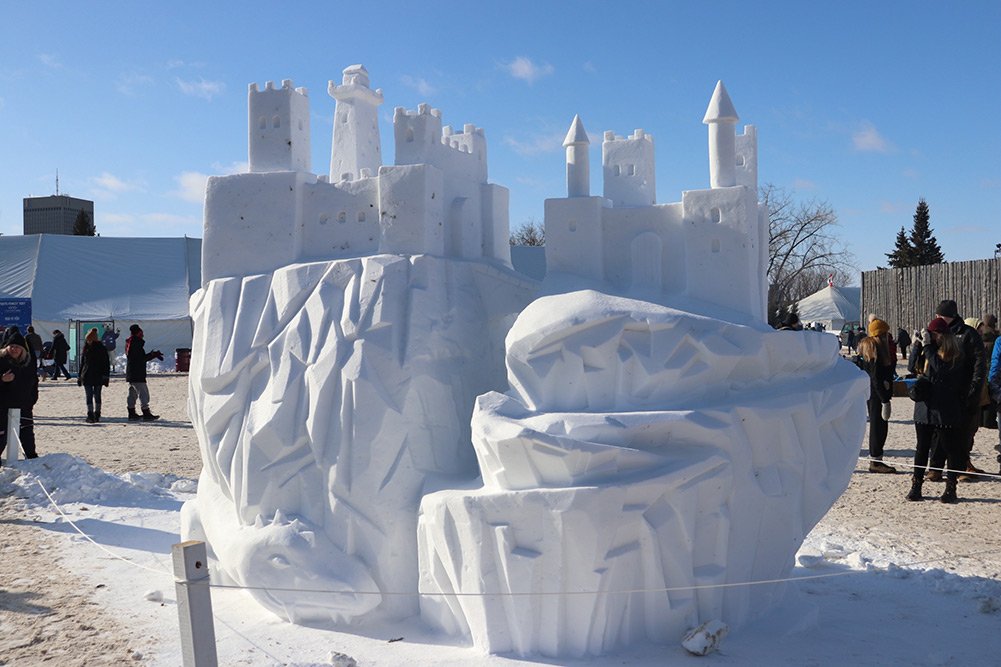 Culture
Winnipeg undeniably has world-class arts and performing arts groups. Admire a variety of art at the Winnipeg Art Gallery. The gallery has permanent and temporary exhibits for the cultured traveler. An all-new-for-2021 Qaumajuq Inuit Art Centre will house the world's largest Inuit art collection. For those who appreciate the performing arts, the Royal Winnipeg Ballet is the longest continuously-operated ballet company in North America. Their annual Nutcracker show is a holiday tradition for many Winnipeggers. Winnipeg also offers sophisticated musical performances by the Manitoba Opera and Winnipeg Symphony Orchestra. If theatrics are more your style, the Royal Manitoba Theatre Centre was founded in 1958 as Canada's first English-language regional theatre. They put on ten productions each year. The RMTC also operates Rainbow Stage, a unique outdoor venue in Kildonan Park that hosts musical theatre shows.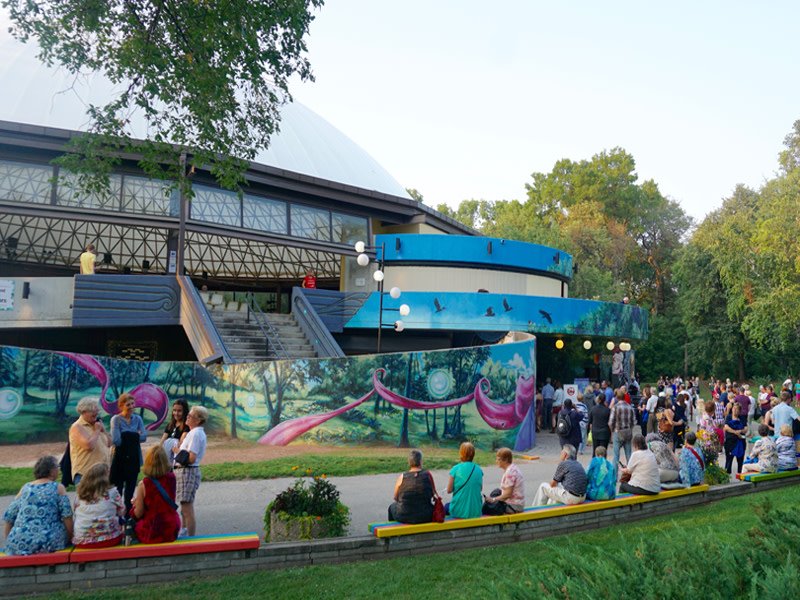 Sports and Outdoors
If you are a sports fan, catch a home game of the National Hockey League's Winnipeg Jets or the Canadian Football League's Winnipeg Blue Bombers. For a more natural escape inside the city, explore the vast Assiniboine Park and Assiniboine Park Zoo. 
The Forks
If I was to suggest just one thing to do in Winnipeg, it would be a trip to The Forks, which is unquestionably Winnipeg's most popular attraction with over four million visitors a year. The Forks is located where the Red and Assiniboine Rivers meet, which is where indigenous people and settlers have traded for many years. Two old warehouses have become busy markets with unique and mostly-local restaurants and stores. 
In the summer, go to The Forks for concerts at the outdoor CN Stage, festivals, buskers, and walks along the riverwalk. Families with kids can take a water taxi from the historic port or go to the Manitoba Children's Museum. In the winter, you can skate on the world's longest skating surface. It's always a treat to glide along the rivers that have been dotted with artistic warming huts.
Other Things To Do At The Forks
The Forks Market building has many retail outlets, including a gift shop with Manitoba-made products, a liquor store, and a candy store. The Food Hall offers several unique restaurants and a craft beer and wine bar. The Forks Market Tower offers panoramic views of the rivers and city, so be sure not to miss out on this incredibly scenic opportunity. Johnson Terminal offers an antique market in the basement, a big toy store, gift shops, and an art gallery for those of you who identify as shopaholics. Indigenous culture abounds at places like Teekca's Aboriginal Boutique, an Aboriginal art & craft store. Nearby, Oodena Celebration Circle, a shallow amphitheatre that honours 6,000 years of Aboriginal peoples' history stands proudly. 
The Canadian Museum for Human Rights
The $350 million Canadian Museum for Human Rights is another Forks attraction. It is the only national museum outside of the Ottawa area. Between its innovative non-linear architecture and unique geometry, this museum has a compelling and emotional Holocaust exhibit. 
Visitors climb one whole kilometer of ramps to symbolize the struggle for human rights while taking in exhibits on each level. Once they reach the top, they're rewarded with the Israel Asper Tower of Hope.
2. Churchill
All the way in northern Manitoba, at the mouth of the Churchill River on the southwest shore of Hudson Bay, you'll find the town of Churchill. Churchill has a population of 1,000 people and is only accessible from Winnipeg by airplane or train. So, why would you want to go here?
Bears, Belugas, and Dogs, Oh My!
There are many wonderful things to do in Churchill, but the biggest attractions are the polar bears and northern lights. Churchill is known as the "polar bear capital of the world." The best time to see polar bears in the wild is during October and November. To view polar bears in late summer, you'll need to travel south of the town by helicopter. Once you reach the "polar bear highway," the path that polar bears use to migrate through Churchill, you might be able to spot these endangered giants. 
From June to September, you can book a beluga whale-watching boat tour out of Churchill's port. In late Summer, 60,000 beluga whales travel south to Hudson Bay near Churchill. It is certainly the best time to see these majestic whales. Some guides will even take you out to kayak with the belugas. 
If you're feeling a little burnt out from polar bear-chasing during your winter visit, make sure to book a dog-sled ride. If you came for the belugas, you can still nab a dog-cart ride that sports some wheels for when there is no snow on the ground.
Indigenous Culture
Indigenous culture is pervasive in Churchill, which fascinates and enchants many of its visitors. Visiting the Itsanitaq Museum or buying some Inuit art or mukluks as a souvenir is a great way to support locals and to celebrate Aboriginal culture. 
The Northern Lights
If we had to recommend one thing to do in Churchill, it would surely be to watch the beautiful, mysterious, and brilliant aurora borealis in the night sky. These spectacular northern lights are visible from late August to April. However, the best months to see them in their glorious green splendour are February and March. I recommend using a tour company like Frontiers North Adventures or Discover Churchill to simplify your experience and ensure that everything is done safely.
3. Gimli
Gimli, Manitoba is located a short one-hour drive north of Winnipeg. It rests peacefully on the southwestern shore of Lake Winnipeg, the 12th-largest lake in the world. Here, you can swim, suntan, picnic, and people-watch at the very popular Gimli beach. Its boardwalk and water-sport rentals are a popular attraction. If you walk to the end of the Gimli Harbour pier, you'll find a small lighthouse and viewpoint. The harbour sea wall has paintings by local artists that depict local landmarks and stories.
Gimli Attractions
For a really unique experience, watch a movie on a floating screen while sitting on the beach at the Gimli Film Festival in July. Order fresh pickerel caught in Lake Winnipeg with Greek salad and french fries at one of the lakeside restaurants. My family and I order it from Europa or Country Boy almost every time we visit Gimli.
If you drive 15 minutes north of Gimli, you will find the whimsical Arnes Farmers Market. Here, you can buy local fruits and vegetables, crafts, jewelry, clothing, books, antiques, jams, and famous donuts from a Mennonite bakery. There's also has a petting zoo and fantastic playground. 
Explore Canada's Icelandic Community
Although Gimli's population stands at a meager 2,500, the region has the largest population of people with Icelandic heritage outside of Iceland. If you have time, check out the New Iceland Heritage Museum and the massive Viking statue next door.
The one thing you can't miss when you visit Gimli is attending the Icelandic Festival of Manitoba, called Islendingadagurinn, during early August. It has Icelandic art, a street market, concerts, and a midway with amusement rides. They even have live re-enactments of Viking battles that families love to watch. 
There are countless great towns, lakes, parks, and roadside attractions in Manitoba. However, these aren't enough to convince most people to plan a special trip to this mystical province. Now that you know about some of the outstanding and unique things to do in Winnipeg, Gimli, and Churchill, you might be convinced to book a trip to Manitoba. You won't regret it. 
Check out Kevin and Tina's website for more information on Winnipeg and its surrounding areas.
By Guest Writer, Kevin Strong