By Lucy and Matt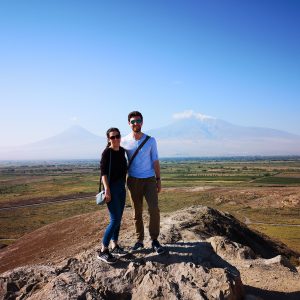 Whether‌ ‌you're‌ ‌dreaming‌ ‌of‌ ‌a‌ ‌week‌ ‌spent‌ ‌on‌ ‌the‌ ‌perfect‌ ‌beach,‌ ‌a‌ ‌romantic‌ ‌city‌ ‌break‌, ‌or‌ ‌an‌ ‌epic‌ ‌overland‌ ‌odyssey,‌ ‌travelling‌ ‌as‌ ‌a‌ ‌couple‌ ‌can‌ ‌be‌ ‌a‌ ‌wonderful‌ ‌experience.‌ ‌
We've‌ ‌been‌ ‌taking‌ ‌trips‌ ‌together,‌ ‌of‌ ‌all‌ ‌shapes‌ ‌and‌ ‌sizes,‌ ‌for‌ ‌over‌ ‌five‌ ‌years.‌ ‌Through‌ ‌the‌ ‌inevitable‌ ‌ups‌ ‌and‌ ‌downs,‌ ‌we've‌ ‌learnt‌ ‌some‌ ‌valuable‌ ‌lessons‌ ‌in‌ ‌how‌ ‌to‌ ‌make‌ ‌the‌ ‌most‌ ‌of‌ ‌hitting‌ ‌the‌ ‌road‌ ‌with‌ ‌your‌ ‌significant‌ ‌other.‌ ‌Here‌ ‌are‌ ‌our‌ ‌top‌ ‌ten‌ ‌essential‌ ‌tips‌ ‌for‌ ‌travelling‌ ‌as‌ ‌a‌ ‌couple!‌
1. Share the load whilst planning your trip.
"Trip admin" is part and parcel of planning any journey — and it's not always the most fun! One of the most important things to remember when travelling as a couple is to make sure that you're sharing this responsibility between both of you.
We love planning our trips together, but tend to divide things fairly naturally between us. For example, Lucy is brilliant at researching and sorting routes. She takes the lead on finding buses, trains, and everything in between! Once that's sorted, it's over to Matt to hunt down the best accommodation and some unique experiences to enjoy along the way. 
Through sharing the load, you can make sure that nobody feels excluded, or like they're doing all the work!
2. Be honest about what each of you would like to see and do.
There's nothing worse than leaving a place and kicking yourself that you didn't see the one thing that had made you most excited to visit.
One danger of travelling as a couple is that you both over-compromise to make sure that your partner is having the best time they possibly can. Sometimes, you end up missing out on things you really wanted to do. This is where you need to be honest about what you'd like to experience in each place you travel. 
Is there an amazing museum one of you would love to explore, and a football stadium the other has always wanted to visit? Rather than risk missing both, make sure you have the conversation and plan them into your day!
3. Don't be afraid to have some time exploring alone!
Taking some time out by yourself whilst travelling as a couple may not come naturally. However, it can be a great way to relax and refresh. This is especially so if you've been on the road for a while.
Travelling with the same person can take its toll on even the best relationship. Heading out for some "me time" can be incredibly valuable in keeping little gripes from boiling over. You might even decide to use the time to tick something off your list that you know your partner would have no interest in!
4. Keep your sense of humour when things go wrong.
A missed bus? A wrong turn which gets you lost in a maze of alleyways? Losing your camera? Been there, done that! So many things can go wrong whilst travelling, all with the potential to cause stress and lead to that dreaded argument!
It's not always easy, but we try to make sure to see the funny side of most things which happen. If you can stay calm, embrace the unexpected, and keep your sense of humour, then you'll probably find that you head home with some great stories and with less bickering during your trip.
5. Team up with other couples.
Travelling is an expensive endeavour. The general rule of thumb is that things get cheaper when you're in a larger group. Teaming up with other couples for tours, transfers, or accommodation can be the perfect way to cut costs and make new friends along the way!
We've met some great people this way, and we never underestimate the value in having someone else to talk to. This is especially true whilst on the road. You never know what tips and inspiration you might pick up from sharing a taxi with fellow travelling couples!
6. Play to your strengths whilst travelling.
Everyone has their strengths and weaknesses when it comes to travel. Perhaps one of you is great at learning languages, but terrible at keeping track of belongings? The other might be super organised, but prone to over-tipping at every opportunity.
It makes sense, therefore, to play to your strengths and focus on what each of you are great at whilst travelling. Lucy always carries our passports wherever we go, because Matt is notorious at losing things (seriously — he once accidentally threw his wallet in a bin). On the flip side, Matt tends negotiate and haggle the most whilst in a market or nabbing a taxi. 
Playing to your individual strengths can make you a formidable team whilst travelling as a couple!
7. Agree on the finances before you travel!
Yes, you will need to have the "money conversation" when travelling as a couple. This is inevitable and important, whether you've been dating for three months or married for thirty years.
It's quite likely that you'll have different priorities and budgets, so setting out the ground rules for what each of you expect to spend — and how the costs will be split — should be one of the first things you do before jetting off. 
Our top tip: be strict on your budget for the trip, and make sure you're both comfortable with the expected level of expenditure. Straighten this out, and one of the major stresses of the trip is already knocked on the head.
8. Don't follow the crowd — carve out your own authentic experiences.
The bigger and more popular your destination, the higher the chance you'll be sharing your intimate getaway with thousands of other couples all looking for the most romantic restaurant or the perfect sunset spot.
Our favourite moments whilst travelling as a couple are when we stumble across the hidden gems and try to live like a local, rather than following the tourist crowds. We'd definitely encourage fellow travellers to seek out and embrace these imperfect, less crowded places. You might just find that it turns out to be your favourite moment of the trip.
9. Take lots of photos, but don't become obsessed by them!
Photos are of the best way to capture precious memories from an amazing trip. We love looking back and reminiscing about our favourite moments on the road. A camera is pretty much the first thing we pack. We tend to come back with hundreds of shots from each trip.
However, we never let the quest for the perfect shot take over the trip. We'd really recommend that you don't become obsessed with taking photos whilst on your travels. This is easier said than done in the age of Instagram. Nonetheless, try to remember to enjoy the place you're in, rather than spending hours trying to get the best "couple photo" to impress your friends or followers. 
10. Make the most of travelling with someone you love and trust.
The absolute best thing about travelling as a couple is that (we hope!) you are travelling with someone you love and enjoy spending time with.
Whether you're strolling the streets of Paris or cramming yourselves onto a sweaty night bus in the middle of nowhere, having one of your favourite people to share the experience with is a real privilege. Throw yourselves into the adventure, and make the most of having the best possible travel companion for your trip!
For more about Matt and Lucy's adventures, check out their travel blog, Two Tickets To.